New Supplier Showcase Opportunities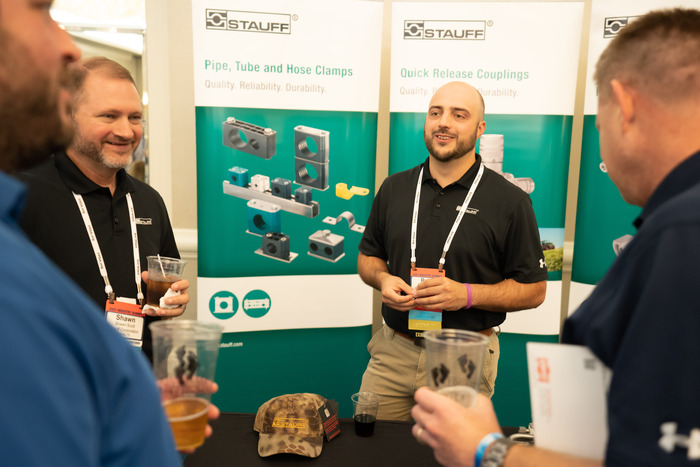 New this year, your exhibit table purchase will include 10 raffle tickets to be handed out during the Supplier Showcase to customers who visit your table. Customers are entered into a drawing to win a free 2023 attendee registration. Additional tickets are available for purchase.
Exhibit Table - $850: Includes one 6-foot skirted table and 10 raffle tickets.
Value Add-On: Exhibit Commercial - $150: Give attendees a sneak peek by adding a commercial to your exhibit table purchase. Your one-minute commercial promoting your company and products will be featured on the Industry Summit webpage.
Raffle Ticket 10 Pack - $20: Purchase an additional packet of tickets to give visitors to your table. Includes 10 tickets. Winners will receive one free attendee registration to the 2023 Industry Summit (one winner from each association).
Click Your Association Logo to Showcase!
Exhibit cancellation deadline for a full refund: August 19, 2022
No refunds after: August 19, 2022
Encore is available to assist you with your electric and WiFi needs. Complete the Exhibitor Order Form and email it to Victor Ramos at [email protected]
Exhibitor shipping instructions coming soon.
Click Here for Exhibitor Rules and Regulations
For more information on participating in the Supplier Showcase, please contact Cathy Vick at [email protected] or call 410-940-6347.
Exhibit Showcase Schedule
Monday, October 3, 2022
7:30 AM–9:00 AM: Supplier Showcase Setup
12:00 PM–2:00 PM: Lunch & Supplier Showcase
2:00 PM-5:30 PM: Supplier Showcase Move Out
Exhibit Floor Plan
Coming Soon
Sponsors
Key Dates
July 11, 2022
Attendee Registration Opens
Supplier Showcase Registration Opens
August 8, 2022
Early-Bird Deadline
August 19, 2022
Cancelation with Full Refund
August 20 - September 16, 2022
Cancellation with Partial Refund
September 2, 2022
Hotel Reservation Deadline
See Who's Attending
Summit Brochure