10/23/2018
Nominations Are Now Open for the MSPCA Board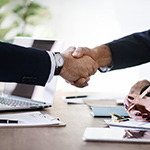 Are you interested in serving MSPCA and the pest management industry? Would you like to get more involved with the association in a leadership capacity? Then please submit MSPCA's Board of Directors Nomination Form for consideration by the MSPCA Nomination Committee.
Board members represent various facets of the industry and help provide strategic guidance for the future of the association. Board members are appointed for a two-year term and will be voted on by the membership during the 2018 December Annual Meeting in Annapolis, MD.
Nominations close November 18, 2018.