Details

January 30, 2020
11:30AM-1:00PM
Speaker Series - Lunch - Multifamily Market Update
Multifamily Disruption: What's Next and New in 2020
Citrus Club, 255 S. Orange Ave., 18th Floor, Downtown Orlando
Multifamily Disruption:
What's Next and New in 2020
As multifamily demand continues to outpace new supply in Central Florida, development teams are faced with unprecedented challenges. Finding a buildable site, competing on amenities, escalating construction costs and increasing government input are just a few of the challenges causing multifamily developers to disrupt their current models in 2020. Our panel will be looking ahead and brainstorming new ideas critical to our region in continuing to supply apartments as a vibrant and desirable home lifestyle.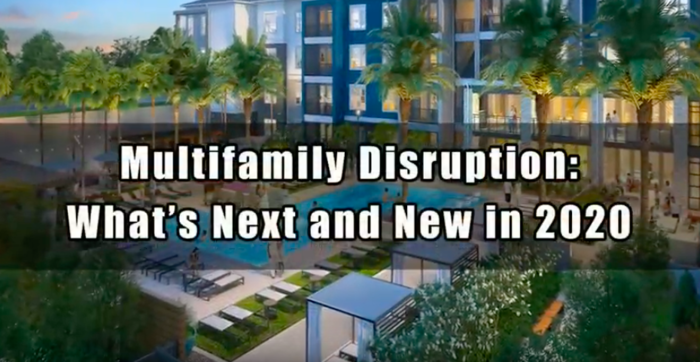 Click the photo above for a special invitation video!
Moderator:
Panel:
Stanley Adwell

President, Intellisteel

Shelton Granade

Executive Managing Director, Institutional Property Advisors (IPA)

Justin Sand

President & COO, EPOCH Residential

Alex Sifakis

President, JWB Real Estate Capital

Jacksonville-based developer using shipping containers for multifamily

Daryl Spradley

Senior V.P., Charles Wayne Consulting
Member: $40
Non-member: $80
Developing Leader: $35
Student: $10
**Registration closes end of day January 23, 2020. Late registrations will be subject to increased registration prices and based on availability. Members: $60/Non-Members $120**
Sponsorship Opportunities Available:
All sponsorship opportunities include your logo on all marketing materials prior to and at the Speaker Series Event, placement of your marketing materials on the registration table, and tickets as detailed below.
Silver Sponsor: $500, 2 tickets
Gold Sponsor: $750, 4 tickets
Platinum Sponsor: $1000, Reserved Table for 8
Thank you to our Sponsors:
Who's Coming?
| | | |
| --- | --- | --- |
| John | Albright | CTO/PINE |
| Christie | Alexander | Crossman & Company |
| Duane | Anderson | Marcus & Millichap |
| Haley | Annan | Scott + Cormia Architecture and Interiors |
| Dean | Arvin | Videogarpher for JWB |
| Yvonne | Baker | Franklin Street |
| Meloe | Barfield | IBERIABANK |
| Justin | Basquill | IPA |
| Ira | Bellinkoff | Edge Realty Advisors |
| Barbara | Bombalier | WELBRO Building Corporation |
| Jessica | Bouaziz | Safebuilt - MTCI |
| Daniel | Broussard | JLL |
| Elijah | Brumant | QMC Investment Group |
| Leslie | Burke | Franklin Street |
| Dan | Byrnes | Tavistock Development Company |
| Gillianna | Canelo | Dave Schmitt Engineering, Inc. |
| Allyson | Chiappa | Epoch Residential |
| Chiara | Clatterbuck | C4 Architecture |
| Wayne | Cox | Fairwinds Credit Union |
| Radford | Crouppen | Marcus & Millichap |
| Chris | Cucci | CenterState |
| Phillip | Czechowski | PSI |
| Jeff | De Zort | CESO, Inc |
| Brendon | Dedekind | Prologis |
| Ken | derick | Universal Engineering Sciences |
| Bob | Eckes | Commercial Design Services |
| Ben | Ellis | S&ME |
| Kyle | Ferris | Ace Relocation Systems |
| Kimberly | Fess | Fugleberg Koch |
| Patrick | Fitzgerald | City National Bank |
| Emily | Franklin | Colliers International |
| Bob | Gagliardi | Stewart Title |
| Michael | Gramblin | J. Raymond Construction Corporation |
| Jim | Gray | CBRE |
| Trevor | Hall | Colliers |
| Jim | Hamil | Terracon Consultants, Inc. |
| Shay | Harold | PACE Equity, LLC |
| Dale | Haupt | S&ME Inc. |
| Courtney | Hazouri | Global Furniture Group |
| Cliff | Hendrickson | ECS Florida, LLC |
| Michael | Hoeksema | Douglas Partners LLC |
| Chuck | Hollis | PAC Land Development Corporation |
| Paxton | Hoogland | DART Interests |
| David | Hungerford | SVN Saunders Ralston Dantzler |
| Terri | Imperato | Threecore LLC |
| Jennifer | Jorgenson | Related Development |
| Michelle | Joyeux | Olympus Executive Realty |
| Sarah | Kelly | RB Marks Construction |
| Laura | Kinsler | Tribune Publishing (GrowthSpotter/Orlando Sentinel) |
| Mike | Krause | Atrium Management |
| Andria | LaRocco | |
| Shawn | Lenihan | KEITH |
| Mason | Logue | Student |
| Joel | Martin | Schmid Construction Inc |
| Kim | Mccann | ELEVEN18 Architecture |
| Lee | McNeil | Williams Company |
| Luciano | Medeiros | Millenia Partners |
| Brad | Mellott | Project Management Advisors, Inc |
| Jeff | Miller | Tavistock |
| Sarah | Montuori | Epoch Residential |
| Bob | Moser | Carnahan Proctor & Cross (CPC) |
| David | Murphy | CBRE |
| David | Noffs | Ace Relocation Systems |
| Andrew | Nolette | Marcus & Millichap |
| James | Officer | Envision Creativity |
| David | Perry | Perry Becker Design |
| Jennifer | Pollock | Ameris Bank |
| Ken | Polsinelli | Peacock Capital |
| Cadesman | Pope | Roger B. Kennedy Construction |
| Dawn | Proffitt | RC Stevens Construction Company |
| Eric | Quinn | KMI International |
| Thomas | Reed | HOWICK Ltd |
| James | Rickard | Withum |
| Jeffrey | Robbins | Related Development |
| Eric | Robert | Workaholic Studios |
| Amy | Rode | Fairwinds Credit Union |
| Chris | Romer | Dockerty Romer & Co. |
| Matt | Sand | Epoch Residential |
| TJ | Sellers | DeAngelis Diamond |
| Bryan | Sharp | Marcus & Millichap |
| Kevin | Shaw | Wieland |
| Erin | Simpson | Scott + Cormia Architecture and Interiors |
| Noah | Soven | Williams Co |
| Daniel | Sprague | Wieland |
| Jason | Toll | NAI Realvest |
| Jack | Waddles | J W Architecture |
| Robin | Webb | Landqwest Commercial Services |
| Michael | West | Withum |
| Justin | West | Marcus & Millichap |
| Luke | Wickham | IPA |
| Taylor | Williams | KMI International |
| Sandy | Winkler-Ehmer | Wieland |
| Adam | Wonus | Atrium Management |
| Robert | Wright | Marcus & Millichap |
| Andy | Yarber | Wieland |
| Corey | Zimmerman | Gilbane Building Company |
2020-01-30 11:30:00
2020-01-30 13:00:00
America/Detroit
Speaker Series - Lunch - Multifamily Market Update
  Multifamily Disruption: What's Next and New in 2020   As multifamily demand continues to outpace new supply in Central Florida, development teams are faced with unprecedented challenges.  Finding a buildable site, competing on amenities, escalating construction costs and increasing government input are just a few of the challenges causing multifamily developers to disrupt their current models in 2020. Our panel will be looking ahead and brainstorming new ideas critical to our region in continuing to supply apartments as a vibrant and desirable home lifestyle.   Click the photo above for a special invitation video!   Moderator:   Lisa Dilts CompSpring     Panel: Stanley Adwell President, Intellisteel Shelton Granade Executive Managing Director, Institutional Property Advisors (IPA)   Justin Sand President & COO, EPOCH Residential   Alex Sifakis President, JWB Real Estate Capital Jacksonville-based developer using shipping containers for multifamily   Daryl Spradley Senior V.P., Charles Wayne Consulting   Register to attend or sponsor here!   Member: $40 Non-member: $80 Developing Leader: $35 Student: $10 **Registration closes end of day January 23, 2020.  Late registrations will be subject to increased registration prices and based on availability. Members: $60/Non-Members $120**   Sponsorship Opportunities Available: All sponsorship opportunities include your logo on all marketing materials prior to and at the Speaker Series Event, placement of your marketing materials on the registration table, and tickets as detailed below. Silver Sponsor: $500, 2 tickets Gold Sponsor: $750, 4 tickets Platinum Sponsor: $1000, Reserved Table for 8     Thank you to our Sponsors:                   Who's Coming?   John Albright CTO/PINE Christie Alexander Crossman & Company Duane Anderson Marcus & Millichap Haley Annan Scott + Cormia Architecture and Interiors Dean Arvin Videogarpher for JWB Yvonne Baker Franklin Street Meloe Barfield IBERIABANK Justin Basquill IPA Ira Bellinkoff Edge Realty Advisors Barbara Bombalier WELBRO Building Corporation Jessica Bouaziz Safebuilt - MTCI Daniel Broussard JLL Elijah Brumant QMC Investment Group Leslie Burke Franklin Street Dan Byrnes Tavistock Development Company Gillianna Canelo Dave Schmitt Engineering, Inc. Allyson Chiappa Epoch Residential Chiara Clatterbuck C4 Architecture Wayne Cox Fairwinds Credit Union Radford Crouppen Marcus & Millichap Chris Cucci CenterState Phillip Czechowski PSI Jeff De Zort CESO, Inc Brendon Dedekind Prologis Ken derick Universal Engineering Sciences Bob Eckes Commercial Design Services Ben Ellis S&ME Kyle Ferris Ace Relocation Systems Kimberly Fess Fugleberg Koch Patrick Fitzgerald City National Bank Emily Franklin Colliers International Bob Gagliardi Stewart Title Michael Gramblin J. Raymond Construction Corporation Jim Gray CBRE Trevor Hall Colliers Jim Hamil Terracon Consultants, Inc. Shay Harold PACE Equity, LLC Dale Haupt S&ME Inc. Courtney Hazouri Global Furniture Group Cliff Hendrickson ECS Florida, LLC Michael Hoeksema Douglas Partners LLC Chuck Hollis PAC Land Development Corporation Paxton Hoogland DART Interests David Hungerford SVN Saunders Ralston Dantzler Terri Imperato Threecore LLC Jennifer Jorgenson Related Development Michelle Joyeux Olympus Executive Realty Sarah Kelly RB Marks Construction Laura Kinsler Tribune Publishing (GrowthSpotter/Orlando Sentinel) Mike Krause Atrium Management Andria LaRocco   Shawn Lenihan KEITH Mason Logue Student Joel Martin Schmid Construction Inc Kim Mccann ELEVEN18 Architecture Lee McNeil Williams Company Luciano Medeiros Millenia Partners Brad Mellott Project Management Advisors, Inc Jeff Miller Tavistock  Sarah Montuori Epoch Residential Bob Moser Carnahan Proctor & Cross (CPC) David Murphy CBRE David Noffs Ace Relocation Systems Andrew Nolette Marcus & Millichap James Officer Envision Creativity David Perry Perry Becker Design Jennifer Pollock Ameris Bank Ken Polsinelli Peacock Capital Cadesman Pope Roger B. Kennedy Construction Dawn Proffitt RC Stevens Construction Company Eric Quinn KMI International Thomas Reed HOWICK Ltd James Rickard Withum Jeffrey Robbins Related Development Eric Robert Workaholic Studios Amy Rode Fairwinds Credit Union Chris Romer Dockerty Romer & Co. Matt Sand Epoch Residential TJ Sellers DeAngelis Diamond Bryan Sharp Marcus & Millichap Kevin Shaw Wieland Erin Simpson Scott + Cormia Architecture and Interiors Noah Soven Williams Co Daniel Sprague Wieland Jason Toll NAI Realvest Jack Waddles J W Architecture Robin Webb Landqwest Commercial Services Michael West Withum Justin  West Marcus & Millichap Luke Wickham IPA Taylor Williams KMI International Sandy Winkler-Ehmer Wieland Adam Wonus Atrium Management Robert Wright Marcus & Millichap Andy Yarber Wieland Corey Zimmerman Gilbane Building Company
Citrus Club, 255 S. Orange Ave., 18th Floor, Downtown Orlando
---