Details

September 27, 2023
5:00PM - 8:00PM
Visionaries of Central Florida
hosted by the Developing Leaders of NAIOP, CREW, ULI, and BOMA
Tap Room at Dubsdread, 549 W Par St., Orlando, Florida 32804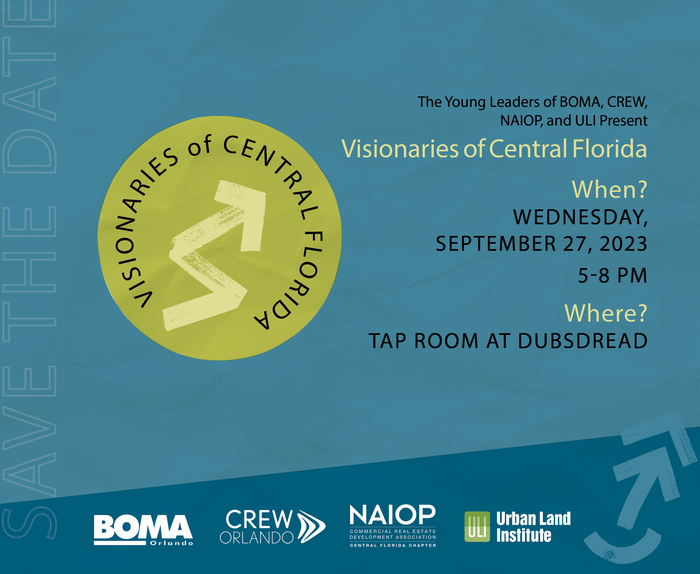 September 27, 2023
The Tap Room at Dubsdread
5:00 pm - 8:00 pm
This event provides a unique opportunity for young professionals (35 and younger) in commercial real estate and community development to interact and learn from the most respected leaders in Central Florida. The program consists of a series of roundtable discussions with Central Florida's most influential Leaders. Obtain valuable advice and learn about the field of expertise of each Visionary and how their vision is formed and influenced by the Millennial Factor.
Registration:
Registration is available to CRE professionals age 35 and younger.
Members of NAIOP, CREW, ULI, and BOMA: $45
Non-members: $65
Registration opens August 7th.
Sponsorship: $300 company logo on marketing materials, event recognition, and a ticket for a representative of your company to attend the event. Representative must be 35 years old or younger.
2023 VISIONARIES
| | |
| --- | --- |
| Joel George | Executive Director of Retail Services, AdventHealth |
| Jim Gray | City of Orlando Commissioner (District 1) & Managing Director at CBRE |
| Douglas Henley | Director of Facilities for the Country Club of Orlando |
| Laura Kinsler | Editor, GrowthSpotter |
| Kelly Lafferman | CMO and Principal, Findsome & Winmore |
| Jennifer Lastik | Executive Vice President, Greater Orlando Sports Commission |
| Eddy Moratin | President, LIFT Orlando |
| Skipper Peek | Senior Vice President, Tavistock Development |
| Jeff Reader | Managing Partner, Reader Communities |
| Ryan von Weller | Chief Operating Officer, Wendover Housing Partners |
| Pat Williams | Orlando Magic Co-Founder |
| Danielle Hollander | Chief Marketing Officer, Visit Orlando |
| | |
Thank you to our sponsors:
Add to Calendar
aCLuDhaqizCaPxAftmqF167204
09/27/2023 05:00 PM
09/27/2023 08:00 PM
false
Visionaries of Central Florida
    September 27, 2023 The Tap Room at Dubsdread 5:00 pm - 8:00 pm   This event provides a unique opportunity for young professionals (35 and younger) in commercial real estate and community development to interact and learn from the most respected leaders in Central Florida. The program consists of a series of roundtable discussions with Central Florida's most influential Leaders. Obtain valuable advice and learn about the field of expertise of each Visionary and how their vision is formed and influenced by the Millennial Factor.   Click here to view the event flyer!   Registration: Registration is available to CRE professionals age 35 and younger.  Members of NAIOP, CREW, ULI, and BOMA: $45 Non-members: $65 Registration opens August 7th. Sponsorship: $300 company logo on marketing materials, event recognition, and a ticket for a representative of your company to attend the event. Representative must be 35 years old or younger.  Register to attend here!   2023 VISIONARIES Joel George Executive Director of Retail Services, AdventHealth Jim Gray City of Orlando Commissioner (District 1) & Managing Director at CBRE Douglas Henley Director of Facilities for the Country Club of Orlando Laura Kinsler Editor, GrowthSpotter Kelly Lafferman CMO and Principal, Findsome & Winmore Jennifer Lastik Executive Vice President, Greater Orlando Sports Commission Eddy Moratin President, LIFT Orlando Skipper Peek Senior Vice President, Tavistock Development Jeff Reader Managing Partner, Reader Communities Ryan von Weller Chief Operating Officer, Wendover Housing Partners Pat Williams Orlando Magic Co-Founder Danielle Hollander Chief Marketing Officer, Visit Orlando               Thank you to our sponsors:        
Tap Room at Dubsdread, 549 W Par St., Orlando, Florida 32804
---