11/01/2023
Empowering Parents to Prepare Their Middle/High Schoolers for Post-School Transition
By Jaimie Patterson
Graduation is a time in life that parents and students pray for and love when it arrives. However, very few parents realize the importance of their role in getting students ready for the post-graduation world. Some parents began by speaking with students about college and four-year institutions at an early age, while others wait until senior year in high school to begin preparing their child for the transition. By senior year, most students are ready for school to end. Therefore, they are unlikely to listen to any parental guidance at that time. Career development specialists usually begin working with students in the eighth grade, but experts suggest that students should start preparing for college and the post-school world in the sixth grade (Ma, 2012).
Guide to Post-School Transition
Preparing for college in middle school can be difficult for parents, especially, when they do not know where to start. The suggestions below will help simplify the process involved. Career development specialists, teachers, and school counselors are encouraged to share the guide with parents.
Talk about college- Parents often feel that their child does not listen to them when they are attempting to guide them. Parents need to know that this is usually not the case. They need to recognize that they have considerable influence on their child overall. Parents could use this power by starting the conversation about the child's interest and the career they want to have when they are older at a younger age. This will help the child to be open to discussions and then ready to explore/decide at the appropriate time.
Make the school your partner- It is crucial that parents are just as involved in school activities and meetings as they are in the child's other areas of life. The child is now at an age where they will explore different opportunities while searching for their interests and ultimate career. As a parent, you can enlist the help of teachers, counselors, and career development specialists in the school. Ask them to discuss, for instance, the results of the career assessments and help to identify some of your child's likes, dislikes, strengths, and weaknesses.
Get involved in your child's choice of classes- Use this time in middle school to help your child find their strongest and weakest subjects. As your child enters high school, help them choose their classes carefully, according to their abilities and needs, seeking input from the school counselors and teachers. For example, If your child has expressed an interest in medicine, help the child to choose their science and math classes appropriately in consultation with the school. They may want to take an extra science or math as an elective class. Make sure that they select courses to meet their requirements and choose electives that will be beneficial to them in the end.
Get savvy about college cost- It is essential to know all the financial resources that are available and their requirements well ahead of time. Because rules and requirements regarding financial aid and scholarships often change, it is best to start researching early and make frequent follow-ups to maximize the opportunity.
Encourage your child to read- Students may perform poorly in college due to lack of strong reading skills. Reading assignments are different in college than they are in high school. The assignments are more frequent and more intense. Therefore, starting early to develop good reading skills and habits will serve them well in college and their chosen career.
Don't wait to get your student help with study skills- Watch your child while they are doing their homework or studying for a test. If you notice that your child has difficulty reading, focusing or studying, middle school is the time to get assistance from school resource personnel. Help students form good study habits as early as possible. It will benefit them in the future (GreatSchools Staff, 2017).
Encourage involvement in extracurricular activities- Participating in extracurricular activities in addition to taking classes while in school is an important demonstration of well-roundedness. Colleges look for extracurricular activities on a student's application for admission. When students engage in these activities early, they maximize their opportunity to gain entrance to their preferred college. As a parent, look into the available Advanced Placement classes, clubs, and organizations that they can join and be sure to include community service projects.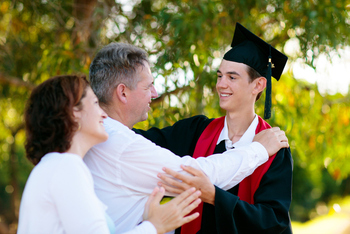 Other Options after High School Graduation
While most parents want their child to attend college, this, however, may not be what the student wants. There are other options for students besides a four-year institution that will help them reach their career goals. Technical programs and community colleges are great ways for students to learn the skills they need without having to accrue an enormous debt or spend 4-6 years in college. These are a few easy steps to start helping students explore alternative options.
Research community colleges, programs, and technical schools that may offer a pathway to the chosen career
Be sure the research includes the examination of the program requirements and how the program prepares the student for employment upon completion.
Inquire and enroll in technical programs at their high schools that could help students gain some knowledge in their area of interest.

Parents, in conjunction with the schools, are an important contributor to the successful post-school preparation of their children. Through these early and active engagement efforts, parents may be able to pave the way to viable options for students' career choices. Career development specialists aid this transition throughout middle and high school while encouraging parents to do the same.
---
Editor's Note: this article originally appeared in Career Convergence in 2017.
It is included here now due to the release of a new resource for parents:
Exploring Career: A Guide for Parents and Children
Discovering a career is a driving force as students make decisions about their future. Motivate your child to think about their career goals and the multiple pathways they can take to reach them. The Family and Caring Adult Table Talk Guide was created in 2023 by BigFuture, a program by the College Board, in collaboration with NCDA.
---
References
Ma, J. (1 April 2012). Why to start preparing for college in sixth grade. Forbes. https://www.forbes.com/sites/jasonma/2012/04/01/why-to-start-preparing-for-college-in-sixth-grade/#5a4317a44e29
GreatSchools Staff. (16 April 2017). A middle school parent's college prep guide. Great Schools. https://www.greatschools.org/gk/articles/middle-school-parents-college-prep-guide/
---

Jaimie Patterson is a Career Coach in West Memphis, AR who assists 8th-12th-grade students in developing a plan for life after graduation. Jaimie believes that all students can learn and have a successful adult life enjoying the career of their choice. Jaimie has helped students find part-time and summer jobs, prepare college applications, prep for the ACT, and apply for scholarships. Jaimie is a certified Career Development Facilitator and holds a Bachelor of Science in Mid-Level Education from Arkansas State University in Jonesboro, Ar. Ms. Patterson could be reached at jlpatterson@asumidsouth.edu
9 Comments
Disclaimer: The opinions expressed in the comments shown above are those of the individual comment authors and do not reflect the views or opinions of this organization.
---