12/01/2022
Tomorrow's High School: A Revolutionary Resource for Forward-Thinking Educators
Book Review By Rebecca Dedmond and Niel Carey
While American education is facing many challenges, including recovery from COVID, it is also faced with the opportunities of an expanding workforce. Fortunately, American educators have tools and resources to help them deal with the challenges of assisting American students to prepare for and access the wide range of work options. Dr. Gene Bottoms' recently released book, Tomorrow's High School: Creating Student Pathways for Both College and Career is an exemplary resource designed to help educators, parents and communities create an environment in which students can become aware of and prepare a pathway to a meaningful and productive career.

Dr. Bottoms' book is timely, published in unison with the meeting of 100 national coalition organizations as they discussed strengthening career development in American schools. Closely related, the National Career Development Association (NCDA) offers a series of professional credentials to help counselors and other professionals provide needed services to students and others to plan for meaningful careers. These credentialed providers have completed training as a School Career Development Advisor or hold a master's degree in school counseling. Thus, they are well-qualified to work with other staff to coordinate the design, implementation, and monitoring of school and community-based efforts to improve the chances of students entering the job market with the skills, knowledge, and credentials to be competitive.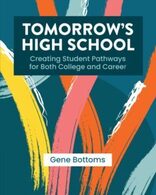 The Aim of the Book
In Tomorrow's High School, the author's vision is to make a difference in the lives of 95% of today's students. Drawing on his 60 years of professional experience, Dr. Bottoms' 30 year leadership of the nation's largest high school reform effort is validated as a comprehensive and transformative process with a goal of identifying causes of why some students are not being prepared for postsecondary study. His book is intended to be a study guide for educational and community leaders who are working to improve the quality of educational experiences for all students, with emphasis on the most challenged. His work has continuously focused on engaging all learners, by offering career pathway courses that combine academics and deeper learning.
With support and guidance, students experience a vast array of career interventions. Proven practices are designed to be led by educators who are "…bold and creative…divergent thinkers who understand the world outside the school…" and who are "…flexible, student-centered, and goal-oriented." (Bottoms, 2022. p. 3) Students can be expected to become "…engaged and challenged to move into deeper learning experiences that they find compelling and rewarding" (Bottoms, 2022. p. 4).

The Role of the Professional School Counselor and the Student
Having been in counseling leadership positions, Dr. Bottoms emphasizes the need for professional school counselors to collaborate with parents, students, teachers, coaches, and administrators to form a Counseling, Exploring, and Advising (CEA) action team. Meaningful, evidence-based career interventions engage students in tasks they will encounter throughout school and into adulthood. As students focus on their studies, they learn to see the relevance between their work in school and their futures. Student motivation increases as they find focus and achieve goals.
CEA teams and teachers collaborate to provide real-world and simulated experiences. Building communication, logical reasoning and thinking skills foster a classroom environment that supports student ownership of their own learning. They work within a framework of bold goals, pathway design features, and essential conditions set forth in district and school plans. Education leaders and policymakers need to transform high school practices so that 95% of students will be engaged and challenged to move into deeper curriculum and learning experiences. One proven model is Polytech High School in Delaware that offers 20 career pathways programs with college-ready academic courses, establishing high expectations for every student. Taking relevant and rigorous study offerings, combined with strengthened relationships, students can be expected to begin taking greater responsibility for their own progress and readiness. Open and reflective dialogue is used to provide them with many positive outcomes.
Further guidance sessions with CEA members helps students identify their unique talents and strengths that actively connect them to planning, implementing, and fulfilling their career goals. Opportunities to explore career and educational options, and to understand and navigate the challenges of middle and high school, become preparation to progress along their planned career pathway. At critical junctures, students and their parents confer with counselors who inspire progress and learning achievement while students are forming lifelong habits.
A key role of the school counselors involvement in transition teams is to provide leadership that engages all faculty and the CEA team in cultivating a relationship with assigned students. In this unique relation, students are supported, motivated, and assisted to increase career readiness.
Connections are made between classes, events, and opportunities. Sessions focus on career pathways, academic studies, and school experiences aimed at connecting learning to student interests and personal goals. CEA members facilitate discussions and elicit student thinking, encouraging them to pose purposeful questions related within and outside school experiences.
They begin to take responsibility for making choices and recognize the benefits of rigorous academic studies and accessible opportunities. Working in this diffused system of counseling, exploring and advising increases student readiness for their education that is designed to "ensure that more students complete high school and graduate college-ready, career-ready, or both." (Bottoms, p. 7)
Counselor Leadership is Key
The strength of the book's solutions is in counselor-led teams that strive to create in all students a sense of belonging in their current education. Then youth can be guided to imagine themselves in various options in the future work world as CEAs encourage their beliefs and strengthen their motivation to work toward self-improvement. Students begin to identify where they believe they will find fulfillment in the world that awaits them. Increased information and support to make challenging choices fosters belief in one's ability to continuously improve and creates a growth mindset – at all stages, for all ages, for all youth. Bottoms' Tomorrow's High School is a critical resource for this process.

Reference
Bottoms, G. (2022). Tomorrow's high school: A Revolutionary resource for forward-thinking educators. ASCD.
---
Rebecca M. Dedmond, Ph.D., LPC, CCCE, GCDF is a retired Associate Professor and Director of the Master of Arts in School Counseling at The George Washington University (GWU). She has written and validated the Freshmen Transition Standards and established the Freshman Transition Initiative at the GWU. Dr. Dedmond served as the Career Counseling Supervisor for the Commonwealth of Virginia where she established a comprehensive career guidance and counseling model. She has also served as a consultant to the World Bank, and began her career as a high school counselor. Dr. Dedmond is active in the NCDA Government Relations Committee, an NCDA Fellow and a former leader with the Virginia Career Development Association. She can be reached at rdedmond@gwu.edu

E. Niel Carey, M.Ed., NCC, NCCC (ret.) is NCDA's Executive Director Emeritus and an NCDA Fellow. He came to NCDA after a career as a high school counselor, department chair, and State Supervisor of Vocational Guidance in Maryland. He led the development of a state plan and program for career education in Maryland, one of the first in the nation. He chaired the state career education coordinators who created the framework for the American Association for Career Education. Niel later became president of the organization. Niel chaired the NCDA Government Relations Committee and remains active in that area. He can be reached at enielcarey@aol.com
---