March 15 - Maumee, Ohio
The 2019 Bowling for Scholarship event will be held on March 15, 2019 at Timbers Bowling in Maumee, Ohio. Participants can register in teams or as individuals. Registration fee includes morning refreshments, pizza, door prizes and tournament bowling. Read more...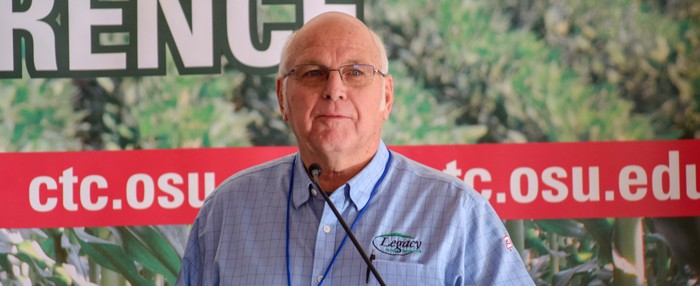 The Ohio Certified Crop Adviser (CCA) Program is honored to announce Don Boehm of Findlay, Ohio as the 2019 CCA of the Year. Boehm is the crop protection manager at Legacy Farmers Cooperative with more than 30 years of crop advising experience and service. Read more...

March 20 - Ohio Statehouse Rotunda
Ohio AgriBusiness Association members are invited to attend an important legislative event on March 20 in the Ohio Statehouse Rotunda. Please join us in representing and advocating for the agribusiness industry's continued growth in Ohio. Read more...
March 26 - Columbus, Ohio
At a meeting on March 26, the U.S. Small Business Administration's Office of Advocacy is interested in receiving feedback from small businesses and their representatives regarding their views on trade agreements being negotiated with Japan, the European Union, and the United Kingdom, and their experience doing business in these markets. Read more...
The FDA has published the second installment of a draft guidance document designed to support compliance with the Intentional Adulteration (IA) Rule under the FDA Food Safety Modernization Act. The FSMA final rule on intentional adulteration is designed to address hazards that may be intentionally introduced to foods, including by acts of terrorism, with the intent to cause wide-spread harm to public health. Read more...
May 1-2, 2019
The Animal Plant Health Joint Criminal and Epidemiological Workshop is a two day course facilitated by the FBI's Weapons of Mass Destruction Directorate and USDA. The Workshop provides joint investigations training to improve efforts to identify and investigate potential overt or covert biological threats to animal and plant health. Read more...
FieldWatch, Inc, a non-profit company that enhances communication and stewardship among diverse agriculture stakeholders, expands its online mapping system technology and welcomes California and Maryland as new member states. Read more...

President Signs Bipartisan PRIA into Law
USMCA Charm Offensive Could Come Up Short
The PR Campaign for Gene-Edited Foods
China Hawks Rally Against Market-Soothing Deal
EU Almost Ready to Move on U.S. Talks, But Won't Budge on Ag
Farm Forecast Another Mixed Bag for Ag
Trump's TPP Exit Curbing Farm Exports
Perdue Defends Trade Aid Rates
The NAFTA Withdrawal Question
Sizing Up FDA Food Policy in Post-Gottlieb ERA
Ethanol Retains Grip on Primary Politics
Roadmap for Regulating Cell-Based Meat
China's Big Sorghum Buy Amid Trade War
USDA Strengthens Partnerships and Protections to Keep African Swine Fever Out of the Country
Salt Institute to Disband