Details

January 17, 2022
9:00AM-12:00PM
Current Issues in Criminal Law Webinar
Webinar
Annual Current Issues in Criminal Law Seminar (CLE pending)
sponsored by the Ohio Association of Criminal Defense Lawyers/the Hamilton County Public Defender Office/and the Greater Cincinnati Criminal Defense Lawyers Association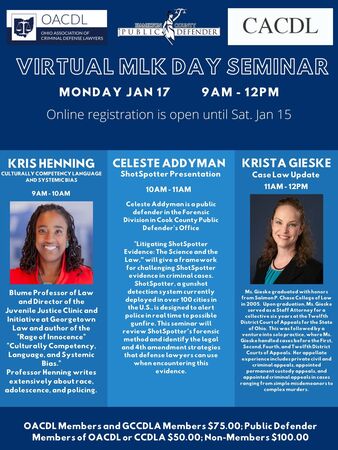 9:00 - 10:00
Kris Henning
Culturally Competency Language and Systemic Bias
"See Something, Say Something: Strategies for Interrupting Bias & Dehumanizing Language in the Criminal Legal System"
10:00 - 11:00
Celeste Addyman
ShotSpotter Presentation
"Litigating ShotSpotter Evidence: The Science and the Law," will give a framework for challenging ShotSpotter evidence in criminal cases. ShotSpotter, a gunshot detection system currently deployed in over 100 cities in the U.S., is designed to alert police in real time to possible gunfire. This seminar will review ShotSpotter's forensic method and identify the legal and 4th amendment strategies that defense lawyers can use when encountering this evidence.
11:00 - 12:00
Krista Gieske
Case Law Update
Join us for this 3-hour webinar at a low cost of $75.00 for OACDL/GCCDLA members, $50.00 for public defenders who are members of either organization!
Online registration is NOW OPEN!
Add to Calendar
aCLuDhaqizCaPxAftmqF167204
01/17/2022 09:00 AM
01/17/2022 12:00 PM
false
America/Detroit
Current Issues in Criminal Law Webinar
Annual Current Issues in Criminal Law Seminar (CLE pending)sponsored by the Ohio Association of Criminal Defense Lawyers/the Hamilton County Public Defender Office/and the Greater Cincinnati Criminal Defense Lawyers Association 9:00 - 10:00Kris HenningCulturally Competency Language and Systemic Bias "See Something, Say Something: Strategies for Interrupting Bias & Dehumanizing Language in the Criminal Legal System"   10:00 - 11:00Celeste AddymanShotSpotter Presentation  "Litigating ShotSpotter Evidence: The Science and the Law," will give a framework for challenging ShotSpotter evidence in criminal cases. ShotSpotter, a gunshot detection system currently deployed in over 100 cities in the U.S., is designed to alert police in real time to possible gunfire. This seminar will review ShotSpotter's forensic method and identify the legal and 4th amendment strategies that defense lawyers can use when encountering this evidence. 11:00 - 12:00Krista GieskeCase Law Update Join us for this 3-hour webinar at a low cost of $75.00 for OACDL/GCCDLA members, $50.00 for public defenders who are members of either organization!  Online registration is NOW OPEN! Register Now
Webinar
---