01/09/2017
Ohio EMS Now Accepting Star of Life Nominations
Nominate an EMS hero for an award!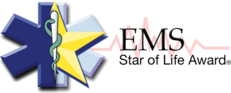 Ohio ACEP and the Division of EMS will join the State Board of Emergency Medical, Fire, and Transportation Services on Wednesday, May 24 for the 17th Annual EMS Star of Life Awards. The ceremony was designed to recognize Ohio's outstanding first responders, reunite EMS personnel with the patients they saved, and honor Ohio's EMS heroes.
The Ohio Division of EMS is now accepting nominations for EMS Star of Life Awards. For more information, including available awards and criteria, check out the 2017 EMS Star of Life Nomination Packet. The deadline to nominate is February 27, 2017!