06/17/2013
Board Member Spotlight – Dr. Paul Culler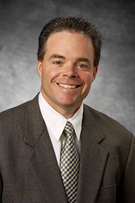 In addition to his clinical duties with Premier Physician Services, Dr. Paul Culler is passionate about service to his Marion County community. A resident of the area for over 20 years, he has been a member of the Marion Rotary Club, served on the Marion Community Foundation Board of Directors and currently serves on the Board of Directors at his church and as President of the River Valley High School Music Boosters. He has also served as the River Valley High School team physician since 2000 and coached his children's youth sports teams for 12 years before "retiring" in 2010.
Dr. Culler is a two-time graduate of The Ohio State University—with a BA in Chemistry in 1985 and MD in 1989. A Buckeye to his core, he is passionate about Ohio State Football and Basketball!
Professionally, Dr. Culler has worked his entire career for Premier Physician Services. For the first 20 years of his career, he worked at Marion General Hospital, serving as the Medical Director from 1998 to 2010. He is currently a Regional Medical Director for Premier and for the last 14 months, he has worked clinically at Blanchard Valley Hospital in Findlay.
Now in his sixth year serving on the Ohio ACEP Board of Directors, Dr. Culler is a member of the Education Committee and enjoys being on the faculty and teaching the Oral Board Review Course.
He has been married to Kelly for 26 years and has three children. Their son Paul attends Shawnee State University in Portsmouth, his daughter Katie—who recently graduated from high school—will be a freshman at Ohio State in the fall, and his youngest, Jonathan, will soon be a freshman in high school.
The Culler family has 20 acres and two barns where they raise lambs to participate in the Marion County Fair. Much of his spare time is occupied with yard work and building care as the official "building and grounds" director of his 20 acres. On top of all his activities, Dr. Culler enjoys golf, racquetball and staying in shape—he will be running in his fourth triathlon this summer!