Details

February 4, 2023
9:30AM - 2:00PM EST
District C Winter Jump Start
Up to .25 CEU (NCRA approved)
Columbus, OH .25 CEU (NCRA approved)
Freedom a la Cart Community Room
123 East Spring Street
Columbus, Ohio
REGISTRATION HAS BEEN EXTENDED THROUGH SATURDAY MORNING!!
REGISTER SOON – SPACE IS LIMITED TO 15 ATTENDEES!
---
Click here for an emailable PDF registration form
---
TIMELINE OF EVENTS
9:30 a.m. – 10:00 a.m. Registration and check-in
(Preregistration online/through email is strongly encouraged)
10:00 a.m. – 11:30 a.m. CATCH (Changing Actions to Change Habits) (.15 CEU) Programming Coordinator Gwen England of the Franklin County Municipal CATCH (Changing Actions to Change Habits) Court will highlight the work of the Court and how it is meeting the needs of survivors. Participants will learn how people end up in cycles of sexual exploitation and abuse and what is needed for them to exit safely.
Gwen England has served in the criminal justice system for over a decade and has specialized in working with women who suffer from multiple complex trauma and addiction. She was previously the supervising officer for the CATCH Court specialized docket in Columbus, OH. CATCH is a restorative justice docket designed to provide healing and dignity to women who have survived the life of prostitution and sex trafficking. She is now the program leader for the docket. Gwen received her Bachelor of Arts in Psychology from The Ohio State University in 2009 and will graduate with a master's in social justice May of 2023.
11:30 a.m. – 1:00 p.m. Lunch on your own
Check out Freedom a la Cart Café and their connection to the CATCH Court (preordering available at https://freedomalacart.org/cafe/)
1:00 p.m. – 2:00 p.m. Tour of the Ohio Statehouse (.1 CEU)
Meet at the Third Street entrance of the Ohio Statehouse for a guided tour that includes the Senate Building and Atrium. The buildings are not only working government offices but a magnificent monument to the people and the period during which Ohio's democracy was founded and formed.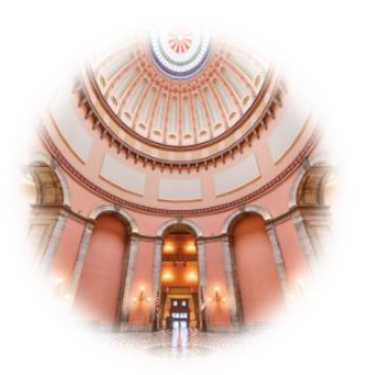 Kathleen (Katie) Montgomery will take attendees on a guided tour through the Ohio Statehouse, which tour will conclude in the Museum Education Center. Katie is a 2012 graduate of Ashland University with a Bachelor of Arts in History. Following graduation, she volunteered as a tour guide with the Ohio Statehouse from 2013-2014. In 2014, Katie accepted her current position as Educational Services and Museum Collections Manager with the Capitol Square Review & Advisory Board, the agency responsible for maintaining the historic character of Capitol Square and charged with interpreting the role of Ohio's Statehouse in national and Ohio history.
Ohio Statehouse Code of Conduct and Ohio Statehouse Security FAQ
---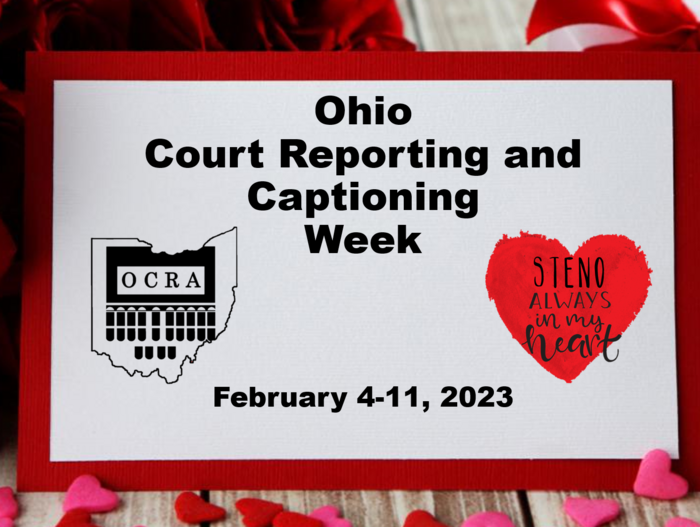 Add to Calendar
aCLuDhaqizCaPxAftmqF167204
02/04/2023 09:30 AM
02/04/2023 02:00 PM
false
America/New_York
District C Winter Jump Start
.25 CEU (NCRA approved) Freedom a la Cart Community Room123 East Spring StreetColumbus, Ohio REGISTRATION HAS BEEN EXTENDED THROUGH SATURDAY MORNING!! REGISTER SOON – SPACE IS LIMITED TO 15 ATTENDEES!   Click here to register instantly Click here for an emailable PDF registration form   TIMELINE OF EVENTS 9:30 a.m. – 10:00 a.m.   Registration and check-in (Preregistration online/through email is strongly encouraged) 10:00 a.m. – 11:30 a.m. CATCH (Changing Actions to Change Habits) (.15 CEU) Programming Coordinator Gwen England of the Franklin County Municipal CATCH (Changing Actions to Change Habits) Court will highlight the work of the Court and how it is meeting the needs of survivors. Participants will learn how people end up in cycles of sexual exploitation and abuse and what is needed for them to exit safely. Gwen England has served in the criminal justice system for over a decade and has specialized in working with women who suffer from multiple complex trauma and addiction. She was previously the supervising officer for the CATCH Court specialized docket in Columbus, OH. CATCH is a restorative justice docket designed to provide healing and dignity to women who have survived the life of prostitution and sex trafficking. She is now the program leader for the docket. Gwen received her Bachelor of Arts in Psychology from The Ohio State University in 2009 and will graduate with a master's in social justice May of 2023. 11:30 a.m. – 1:00 p.m.   Lunch on your own  Check out Freedom a la Cart Café and their connection to the CATCH Court (preordering available at https://freedomalacart.org/cafe/) 1:00 p.m. – 2:00 p.m.     Tour of the Ohio Statehouse (.1 CEU) Meet at the Third Street entrance of the Ohio Statehouse for a guided tour that includes the Senate Building and Atrium.  The buildings are not only working government offices but a magnificent monument to the people and the period during which Ohio's democracy was founded and formed.   Kathleen (Katie) Montgomery will take attendees on a guided tour through the Ohio Statehouse, which tour will conclude in the Museum Education Center.  Katie is a 2012 graduate of Ashland University with a Bachelor of Arts in History.  Following graduation, she volunteered as a tour guide with the Ohio Statehouse from 2013-2014.  In 2014, Katie accepted her current position as Educational Services and Museum Collections Manager with the Capitol Square Review & Advisory Board, the agency responsible for maintaining the historic character of Capitol Square and charged with interpreting the role of Ohio's Statehouse in national and Ohio history. Ohio Statehouse Code of Conduct and Ohio Statehouse Security FAQ  
Columbus, OH