David Burkett-2023
Colonel Crawford High School, Sandy Valley High School, Tuslaw High School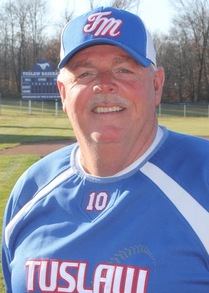 David Burkett was born and raised in Massillon, Ohio by his parents Kay and Bill Burkett. He graduated from Tuslaw High School in 1983 while earning letters in golf, basketball and playing baseball for OHSBCA Hall of Fame coach Frank Gamble.
David continued his academic and baseball career at Ashland College playing for Coach Lou Markle, pitching for four years earning four letters for the Eagles. He graduated with his Bachelor of Science degrees in Physical Education (K-12) and Health Education (7-12) in 1987.
David spent his first two years out of college substituting as well as coaching football, basketball and baseball in Stark County.
In 1988, he was an assistant varsity baseball coach at Tuslaw with Frank Gamble and in 1989 was an assistant varsity baseball coach at Canton South for OHSBCA Hall of Fame coach Tim Miller.
In July of 1989, David married his high school sweetheart, Amy. He accepted a full-time teaching position at Colonel Crawford Local Schools as a middle school physical education teacher as well as coaching volleyball, basketball and baseball. He was an assistant baseball coach for OHSBCA Hall of Famer Dan Gorbett and Head Junior Varsity coach for five years (1991-1995).
In 1996, David accepted the Athletic Director position at Colonel Crawford as well as becoming the head baseball coach. He also earned his master's degree in Sports Administration from Ashland University.
For the Colonel Crawford Eagles, "Burks" recorded a 113-105 overall record that included 1 NCC championship (2002), 4 Sectional championships (1998, 1999, 2002, 2003) 4 District finalists (1998, 1999, 2002, 2003) and 2 district runner-ups (1999, 2002). David was named District 9 Coach of the Year in 2002.
In the summer of 2003, David was hired as the Athletic Director and Head Baseball coach at Sandy Valley Local Schools. Amy and David were able to move back closer to family and home. The Cardinals went 116-53 (6 years) with three IVC league runner ups, 1 sectional championship (2009) and 1 district runner up loss to state champion Division 3 Indian Valley. He guided the Cardinals to a school history single season record of wins in 2009 at 25-5.
David made his last career stop at his high school alma mater, Tuslaw High School in the fall of 2009. Presently, his overall record is 154-166 at THS with 1 PAC 7 championship (2014), 4 sectional championships (2012, 2013, 2014, 2019), 4 district finalists (2012, 2013, 2014, 2019), 1 district runner-ups (2012).
David's total head coaching record sits at 383-324. He was selected the OHSBCA Coach of the Year in 2020 and PAC 7 Coach of the year 2014 and 2019. His Tuslaw HS team tied the record in a single season in Tuslaw school history with team wins of 20 in 2011 and 2014.
Coach Burkett has been blessed to have eight players selected to the Mizuno/Augusta Series, five 1st Team All-Ohio players, eight 2nd team All-Ohio players and coached in the Mizuno Series in 1999 while many of his former players have continued their baseball careers at the collegiate level.
Burks is honored to serve on the OHSBCA board of directors for 24 years, running through the executive board chairs, serving as the OHSBCA president in 2005. He now serves as the OHSBCA Historian. David retired as the Tuslaw AD after 35 years in education in May of 2022 and was asked to return to teach health classes and help with athletic field maintenance.
David also will be entering his 23rd year of officiating HS basketball this season.
David's older brother, Jeff, is a retired public-school educator from Bowling Green City Schools and continues to teach educational psychology college classes at BGSU and Owens Community College.
David and Amy have been married for 33 years. They have two sons - Trevor, his wife Ali, and their first grandchild Joanna. Trevor, 29, is an intervention specialist at Plain Local (Oakwood Middle School) along with being the Oakwood Middle School Athletic Director. Trevor has coached middle school football, middle school basketball and middle school track. Brock, 25, is the high school and middle school choir teacher at Maumee Local Schools.
David cannot thank all of the coaches, players, parents, communities, faculty and staff, administration and most importantly - his family - for supporting his coaching and educational journey. David is blessed and humbled to be a part of the most outstanding baseball coaches organization in the country and appreciates the bond he has made with every single coach he has had the privilege to meet in the circle of coaching.