Chuck Harlow-2014
Northmont High School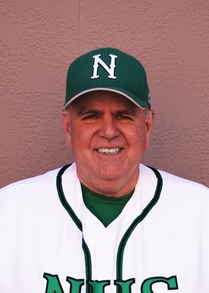 Chuck Harlow-Northmont High School
Chuck Harlow is currently in his 35th year of coaching high school baseball; 2 years as a JV coach at Dixie High School, 3 years as a Varsity Head Coach at Dixie and the past 29 years at Northmont High School as the Varsity Head Coach. Coach Harlow has also coached football (7 years), basketball (17 years) and JV golf (5 years).
In baseball his varsity teams have a combined record of 626 wins and 276 losses. At Northmont, the baseball team has won 12 Conference titles, 11 Sectional titles, 4 District titles and 1 Regional Runner-up title. Chuck has been named conference Coach of the Year 11 times. He was inducted into the Miami Valley Baseball Coaches Association in 1999. Chuck has also had the honor of coaching in the Mizuno All-Ohio Series twice.
Chuck is a member of the Miami Valley Baseball Coaches Association and served as membership chair and President. He is also a member of the OHSBCA and served a two-year term as the Southwest District Representative. Coach Harlow is grateful for both organizations because he has learned a lot about baseball, teaching and coaching from the coaches in both associations.
Through the years Chuck has surrounded himself with outstanding assistant coaches and has been blessed with excellent players with a strong passion for the game. Chuck has coached 74 players who have played college baseball and 6 players who have been drafted.
Chuck is a 1979 graduate of The Ohio State University where he earned a Bachelor of Science degree in Comprehensive Social Studies and a 1984 graduate of the University of Dayton where he earned a masters degree of Administration. At Northmont High School he is the department chair of the Social Studies department and teaches American History, Holocaust and Adolescent Social Problems. Chuck and his wife Beth live in Clayton. They have a daughter, Meagan, who is a teacher in Chicago, daughter, Lindsay, who is a pharmacist in Dayton and son, Kyle, who is a project manager in Cleveland.