Dick England - 1989
Lancaster High School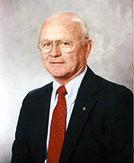 This graduate of Lancaster High School, Lancaster, Ohio, returned to his Alma Mater and assumed the positions of Physical Education instructor and Head Baseball Coach in 1958 through 1969. Dick was the head coach for 11 years and amassed 153 wins against 56 losses. His teams won 5 Sectional Titles, 5 District Titles, 3 Regional Titles and in 1961, 1964, and 1967 piloted his Lancaster High School teams to the State Semi-Finals Championships. As Head Coach of the East Squad in the 1964 Ohio High School East-West All-Star Baseball Classic, he guided the East Team to 3 straight wins over the West All-Stars.

As a baseball player at Ohio University, Dick made the All-Mid-American Conference Team as an outfielder in 1953 and in 1954 made the All-Mid-American Conference as a third baseman. Dick had the privilege to play on two Mid-American Baseball Championship Teams in 1953 and 1954 and in NCAA play-offs.

In 1967 and again in 1988 was awarded the Green and White Club of Ohio University, Athens, Ohio, Certificate of Merit in recognition of outstanding achievements in the fields of athletics.

In 1969--1970, he joined his former college coach, Bob Wren at Ohio University. Dick was assistant coach on the 1970 Ohio University Team that finished 4th in the College World Series. England was inducted into the Ohio University "Athletic Hall of Fame in 1992 and also inducted into the Southeast District Hall of fame in 2003.
England was the Athletic Director at Lancaster High School where he retired in 1989.

Dick is married to the former Connie Conrad and has two children, Jeff 50, and Amy39.