12/12/2022
Cheryl Boley Named OJFSDA 2022 Outstanding Director of the Year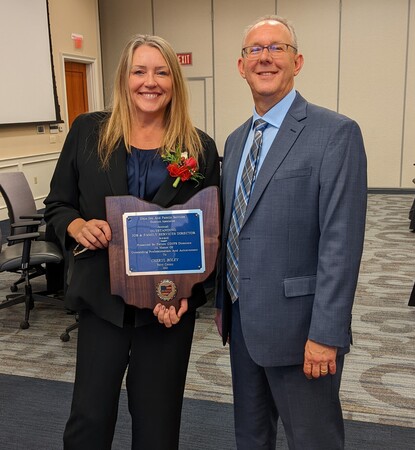 We are happy to announce that Perry County JFS Director Cheryl Boley has been named the OJFSDA 2022 Outstanding Director of the Year!
Each year the Association recognizes a county department of job and family services director who, through dedicated efforts throughout the span of their career, exemplifies the professional qualities and achievements of an outstanding Director. Director Boley received numerous nominations from her peers and was officially announced as the 2022 recipient during today's membership meeting.
Cheryl began her career in the health and human services industry in Columbus, Ohio as an eligibility worker for Franklin County Job and Family Services (JFS). Over the course of thirty years of public service, she has advanced from unit supervisor and program operations director to that of assistant director of a metro county Job and Family Services, and now a director of a rural community Job and Family Services agency.
Throughout her career Cheryl has focused on identifying and removing barriers to promote economic mobility to help families and communities realize their fullest potential. She is a key driver of many successful initiatives to help Ohioans. In 2013, she was asked by the state of Ohio to participate as a leader of the Ohio Shared Services Team, supporting a major county and state collaboration to streamline and standardize JFS services statewide through upgraded technologies and improved business processes.
At the request of the Perry County Board of Commissioners, Cheryl brought the Perry County transit system under the direction of Perry County JFS where she put it on a path of advancement and growth. The resulting alignment of agencies ensures that Perry County's most vulnerable citizens have access to medical appointments and employment opportunities while positively impacting area businesses.
In 2017, she accepted an award from the Ohio Department of Transportation (ODOT) for system of the year at the ODOT Civil Rights Symposium for promoting diversity and inclusion to underserved populations. In June of 2022, Cheryl was awarded the APHSA Outstanding Local Member Award for her commitment to building thriving communities.
When asked about receiving the Director of the Year award, Boley said, "I'm happy to accept this award on behalf of the collective work and commitment of county JFS employees and directors in the state who are well supported by the Ohio Job and Family Services Director's Association."
Tammy Osborne-Smith, Jackson County JFS Director and OJFSDA President, said, "As the Director of Perry County, Cheryl is a strong community leader and a fierce advocate for the Appalachian region. She is dedicated to local partnerships that serve the families and children that live there, while also providing her knowledge and expertise to enhance partnerships across the remaining eighty-seven counties in Ohio."
We want to congratulate Cheryl and thank her for her innovative work and inspirational leadership, which have resulted in vast improvements to the job and family service system.