06/26/2023
Remembering Bob Fletcher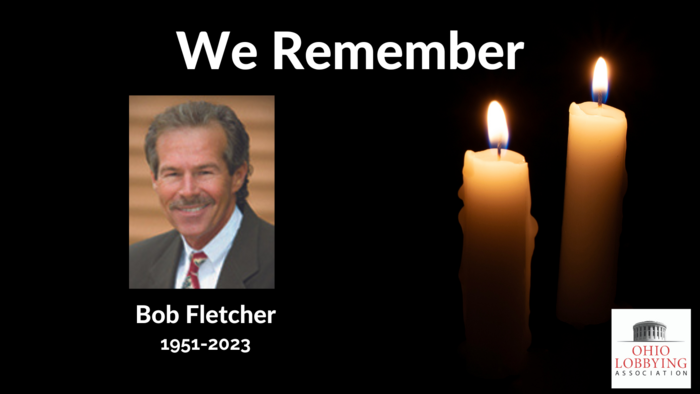 With heavy hearts, we share the news of the death of our friend, colleague, and OLA Past President Bob Fletcher. He had a tremendous impact on our association and the lobbying community. We are grieving this loss with all who knew and loved Fletch.
His obituary was published recently. You can find it here.
Robert E. "Bob" Fletcher, age 71 of Columbus, passed away Monday, June 19, 2023 at Willow Brook Christian Home.
Bob was born August 9,1951 in Bronxville, New York, the son of Robert C. and Evelyn (Reade) Fletcher. He was educated in Marion and graduated from Harding High School. Bob continued his education at Bowling Green State University where he graduated Magna Cum Laude with double majors in English and Political Science. He then pursued and graduated with his Juris Doctorate from Moritz College of Law - The Ohio State University.
Bob started his career at the Ohio Department of Administrative Services, before moving on to work for the Ohio State Bar Association for 11 years in its Public Policy Group. In 1991, Bob began his 27 year career at the Ohio Association of Realtors. Bob played an integral role in advancing the interests and concerns of Ohio's Realtors at the state and national level, serving as chief lobbyist, senior vice president and the chief executive officer. Bob retired from the Association in 2018.
Recognized as one of the leading public policy experts in Ohio, Bob was awarded the "Green Jacket" by the Ohio House Republican Leadership in 1998, an annual award presented to an outstanding lobbyist. He also served as the president of the Ohio Lobbying Association. His expertise in the governmental affairs area was similarly recognized within the Realtor organization when he was elected by his peers to serve as chairman of the National Association of Realtors Government Affairs Directors Committee in 2002.
Bob was appointed by Ohio Governor Ted Strickland in 2008 to serve on the Capitol Square Review and Advisory Board, charged with oversight of the operation of the Ohio Statehouse and parking garage facility.
Civically, he served as Treasurer of the University Community Association, designed to promote homeownership and quality of life issues in the area surrounding The Ohio State University.
Bob was an avid reader, he loved to play golf and he enjoyed working in his garden. He also loved his vinyl collection of albums including bands from the 60's and 70's. Another favorite activity for Bob was hosting Fletch Fest in his backyard for friends and neighbors. The phrase used most often to describe Bob is that "he is just a great guy and anyone who knew him loved him".
Bob was preceded in death by his father, Robert C. Fletcher. He is survived by his mother Evelyn Reade Fletcher; sisters, Susan (John) Reynolds, Jeanne (John) Tarkington, nieces Erin (Reynolds) Pack, her husband, Ryan Pack, Evan Tarkington, nephew Mike (Alicia) Reynolds, and Erin's three children, Rowan, Finley and Isla.
Services will be held privately for the family. A Celebration of Life will be held in August with details to be announced. In lieu of flowers, donations may be made in Bob's honor to Mid-Ohio Food Bank or the Marion Palace Theatre.
Bob's family would like to give special heartfelt thanks to long-time friends, Dan and Suzanne Helmick and Peg Ritenour for their enduring love and support. Also, many thanks to ProMedica Hospice for their compassionate care.
The Snyder Funeral Homes of Marion are honored to serve the Fletcher family; condolences may be expressed to the family by visiting www.SnyderFuneralHomes.com.