Mission of the Ohio Optometric Association (OOA)
The Ohio Optometric Association serves its members and their patients by advocating for the profession to the public and policymakers, promoting the importance of and access to comprehensive eye care, and providing meaningful resources that strengthen professional viability.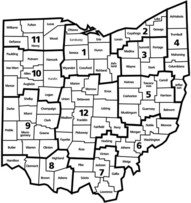 Led by its Board of Directors, the OOA also provides regional leadership by dividing the state into 12 regions, or zones, each led by a volunteer member, the Zone Governor.
Zones hold regular meetings throughout the year. Click on OOA Calendar of Events for a listing of upcoming meetings around the state. In the search bar, type "Zone __" for your specific zone meetings.
2021 Board of Directors
Diana Gilbert, OD

PRESIDENT

Cincinnati Eye Care Team
8629 N. Pavilion Dr.
West Chester, OH 45069



Shane Foster, OD

PRESIDENT-ELECT


Athens Eye Care
416 W Union St.
Athens, OH 45701



Brian Dietz, OD

SECRETARY-TREASURER

Premier Vision Group
2765 Fort Amanda Rd, Suite 100
Lima, OH 45805

Elizabeth Muckley, OD

IMMEDIATE PAST-PRESIDENT


Northeast Ohio Eye Surgeons
2013 State Route 59
Kent, OH 44240



Taylor Babcock, OD

TRUSTEE

Babcock Eye Care
721 Seventh St.
Portsmouth, OH 45662

San-San Cooley, OD, MS

TRUSTEE

EyeCare Professionals of Powell
9711-C Sawmill Parkway
Powell, OH 43065

Lindsay Florkey, OD, MS

TRUSTEE

Greene County Eye Care
400 N Main St
Cedarville, OH 45314

Timothy Fries, OD, MPH

TRUSTEE

Optique Family Vision Care
207 Glenn Ave
Washington Court House, OH 43160

Greg Nixon, OD

TRUSTEE


OSU College of Optometry
338 W 10th Ave
Columbus, OH 43210



Jennifer Vincent, OD

TRUSTEE

Northeast Ohio Eye Surgeons
2013 State Route 59
Kent, OH 44240
ZONE 1

Dr. Janel Strah

Family Eye Care Centers
2331 Columbus Ave
Sandusky, OH 44870

ZONE 2

Dr. Harmin Chima

Family First Vision Care
24539 Cedar Rd
Lyndhurst, OH 44124

ZONE 3

Dr. Erica Keller

Akron VAMC Outpatient Clinic
55 W Waterloo Rd
Akron, OH 44319

ZONE 4

Dr. Robert Gerdes

Robert J. Gerdes, OD
30 N Main St
Hubbard, OH 44425

ZONE 5

Dr. Kolby Knox

Family Vision Care
2008 Maple Ave
Zanesville, OH 43701

ZONE 6

Dr. Rachel LeFebvre

Athens Eye Care
416 W Union St
Athens, OH 45701

ZONE 7

Dr. Michael L. Miller

Portsmouth Vision Center
1915 Scioto Trail
Portsmouth, OH 45662

ZONE 8

Dr. Tiffany Young

Opticare Vision Center
486 Ohio Pike
Cincinnati, OH 45255

ZONE 9

Dr. Katherine Fisher

Middletown & Settlers Walk Eye Care
315 N Breiel Blvd
Middletown, OH 45042

ZONE 10

Dr. Ashley Schoenherr

Fishbaugh Family EyeCare
570 Kremer-Hoying Rd
St. Henry, OH 45883

ZONE 11

Dr. Elizabeth Bower

Maumee Center for Eyecare
1657 Holland Rd
Maumee, OH 43537

Dr. Susan Robinson

Cardinal Family Eye Care
885 High St, Suite 101/102
Worthington, OH 43085