Ohioans Elected to AOA Board of Trustees
AOA House of Delegates Sets Policy
(July 26, 2017) About 40 Ohioans attended the American Osteopathic Association annual meeting and House of Delegates, July 22-23, in Chicago. George Thomas, DO, of Cleveland, chaired the Ohio delegation and Paul A. Martin, DO, of Dayton, was vice-chair.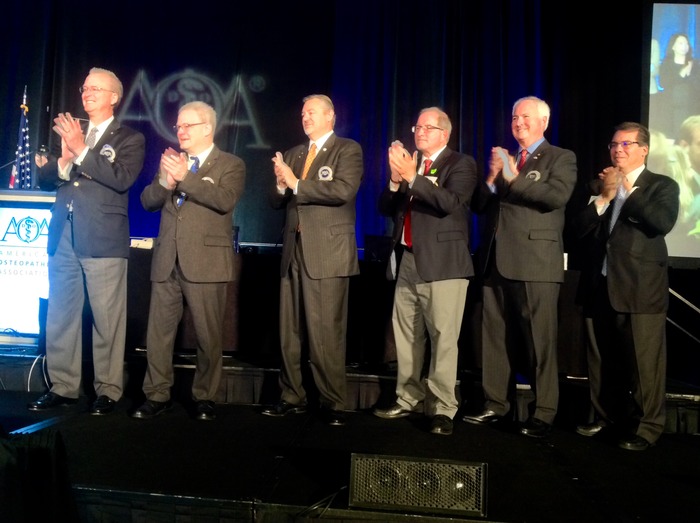 Several OOA members were in the spotlight: AOA/OOA Past President Robert S. Juhasz, DO, was recognized by the AOA Board of Trustees for his service to the profession; William J. Burke, DO, was re-elected to a three-year term to the AOA Board; Robert W. Hostoffer, Jr, DO, was elected to a one-year term as AOA third vice president; and OU-HCOM Student Daniel Krajcik, chaired the national Council of Osteopathic Student Government Presidents.
Delegates considered more than 200 resolutions, five of which were submitted by the OOA. Three of the OOA resolutions were approved: Cultural Competency (amended); Insurance Coverage for Residential Treatment of Eating Disorders (approved without amendments); and Direct Primary Care (amended to comply with state and federal laws). One Ohio resolution regarding physician and student burnout was withdrawn and included in a new comprehensive position statement on physician wellness that was approved and included in the AOA budget. Another Ohio resolution regarding Conversion Therapy received considerable attention before winning approval from delegates. The Ohio submission was combined with other similar resolutions from Michigan and the student organization before it was amended and strengthened by a Florida amendment on the House floor to make the practice unethical.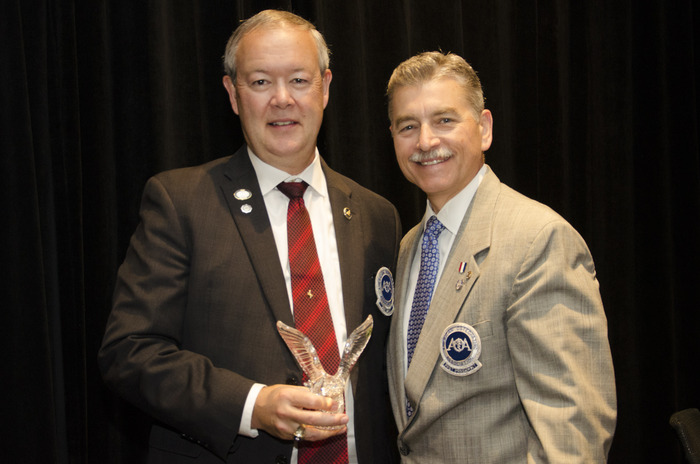 Several OOA members wserved on House reference committees: President Sean D. Stiltner, DO (chair) – Ad Hoc; Jennifer L. Gwilym, DO – Education; Isaac J. Kirstein, DO – Professional Affairs; Cleanne Cass, DO – Public Affairs; and John F. Uslick, DO – Constitution and Bylaws. Luis L. Perez, DO served on the Resolutions Committee and Melinda E. Ford, DO was a member of the Credentials Committee.
Mark A. Baker, DO, of Texas, was installed as president of the American Osteopathic Association, July 22, in Chicago. In his inaugural speech, Baker, a diagnostic radiologist, shared the story of his family—three generations of osteopathic physicians—and his birth at Still Osteopathic Hospital in Des Moines, Iowa: "You could say I was born into the profession and never left." He highlighted three focus areas for his term: improving the AOA's relationship with affiliate organizations; engaging the youth of the osteopathic profession; and promoting unity within the osteopathic family.