OOA Members Set Policy for the Profession in Ohio and Nationally
(From Buckeye Osteopathic Physician, Fall 2014) At the 2014 American Osteopathic Association House of Delegates in July, Ohio was in the spotlight. Mostly because Ohioan Robert S. Juhasz, DO, was installed as AOA president, but also because several resolutions submitted by the Ohio Osteopathic Association stirred debate and generated media interest.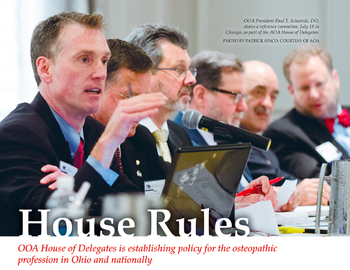 OOA Speaker of the House John F. "Jack" Uslick, DO, of Canton, said the attention is warranted. "We have a dynamic, energetic group of DOs in Ohio who are sincerely interested in making a positive impact. They are insightful and want to change our health care system for the better," he said. "And we see that every spring at the OOA House of Delegates."
The OOA House, held annually in conjunction with the Ohio Osteopathic Symposium, is the principal policy-making body for the Ohio profession. Delegates, who represent each of the OOA's ten districts, elect officers, debate resolutions, and set policy addressing a variety of health care issues.
OOA President Paul T. Scheatzle, DO, noted it was Uslick, who has been speaker since the 2009 House and was vice speaker for more than 15 years before that, who spurred the state's renewed position as a policy leader.
"A few years ago, the Speaker put out a challenge to the district academies," Scheatzle said. "He urged the delegates and kept after the OOA Board to look at the hot topics in medicine and develop resolutions to address the problems we complain about."
Andrew P. Eilerman, DO, a family physician from Columbus, took up Uslick's challenge. He has written about a dozen resolutions over the past four years, with several of them reaching the national stage.
"There are so many legislative and regulatory issues that physicians have to deal with—and a lot of times those requirements are simply not practical or do-able," he said. "They aren't always good for the patient either."
Eilerman, who is a past president of the Columbus Osteopathic Association, noted that in addition to office situations, current affairs can also generate resolutions. For example, this year he submitted two resolutions to the OOA House regarding recreational use of marijuana that were approved and made their way to the AOA House. Those resolutions drew significant discussion at the Chicago meeting, leading one delegate to tweet: "Debate on physician use of legal marijuana at #AOAHoD may be longer than #SingleGME debate," referring to the historic vote regarding graduate medical education accreditation.
For Jennifer Hauler, DO, of Dayton, a personal experience led her to write a resolution on medical cost transparency.
Last year, her husband Josh Julian had a core decompression to try to avoid a left hip replacement. Since they had checked with their insurance company, surgeon, and others beforehand, they were expecting only a co-pay. Instead, a few months later they received bills for thousands of dollars for anesthesia and lab services, which were out of network.
Hauler explained: "It was a surprise when we got all of these bills in the mail, since we were told everything was covered. I'm a physician. I know what questions to ask. Imagine an elderly patient or someone not intimately familiar with the health care system. Patients should be focusing on their recovery, not worrying about how to pay these bills they weren't expecting."
The billing issue—which took eight months, three appeals, countless phone calls, and a substantial amount of time to resolve—led her to write a policy statement advocating that hospitals and other medical facilities provide patients an estimate, in advance of scheduled procedures, of all costs involved in their care, such as laboratory fees and medications, and whether it is covered by their insurance.
"I have to credit Cleanne Cass," Hauler said. "I raised the issue and wrote a draft resolution and then she turned it into magic."
Cass, a family physician from Dayton, and Hauler also teamed up to write a resolution addressing the cost of residents' audition rotations. Hauler stressed that students and residents have a voice in the policy-making process. "I met with the OMS III and IV at Grandview Hospital in the summer and encouraged them to bring policy issues forward."
That's what happened in southeast Ohio.
Students at Ohio University Heritage College of Osteopathic Medicine (OU-HCOM) and William A. Cline, DO, a surgeon from Marietta, separately voiced concerns about the lack of student access to electronic health record systems at teaching hospitals. That led the District 9 Academy of Osteopathic Medicine, which represents physicians in Athens and Marietta, to schedule an OOA Family Visit with then-President Robert L. Hunter, DO, Executive Director Jon F. Wills, and Health Policy Chair Peter A. Bell, DO, to specifically discuss the policy-making process and get assistance with resolution writing.
The resulting resolution passed the OOA House in April and was forwarded to the AOA House in July, which adopted a policy "to promote the opportunity for medical students to document and practice order entry in electronic medical records at facilities where osteopathic medical students are trained."
Wills said that teaching hospitals have been wary to give students full access to notes in patient records because of safety and liability concerns. But he noted the Ohio profession is already dealing with the issue, as OU-HCOM's new Dublin campus has an instructional lab for students to learn Epic, the software used at hospital systems like OhioHealth and Cleveland Clinic.
District 9 leaders including President Melinda E. Ford, DO, and OOA Board Trustee Jennifer L. Gwilym, DO, also wrote a resolution prohibiting the sale of e-cigarettes to minors and another addressing direct-to-consumer solicitation by companies that supply durable medical equipment, like diabetic testing supplies and braces. Both were advanced to the national level.
House Speaker Uslick said not all resolutions end up at the AOA. "There are issues that are pertinent only to Ohio," he said. "At the OOA House of Delegates we also consider state and local issues that affect physicians, patients, and the practice of medicine in general. The policy positions we adopt give guidance to Jon Wills when he's lobbying at the Statehouse on our behalf."
OOA President Scheatzle said it's a process that works. "It's been great to see so much commitment and leadership from our districts," he said. "The end result has been more involvement from our membership, a desire to write better resolutions, and a team effort to make our House of Delegates more relevant."
2014 OOA
Member Census
FREE IT Services Checkup
Chance to win $100 Visa Gift Card
Access to other Members-only Benefits
Call (855) 319-7828 today
to schedule a complimentary practice consultation.
An hour with our team could save you thousands of dollars!
Upcoming Events