OOA Member Testifies Before House Healthcare Efficiencies Study Committee
Barreiro stresses importance of funding community based programs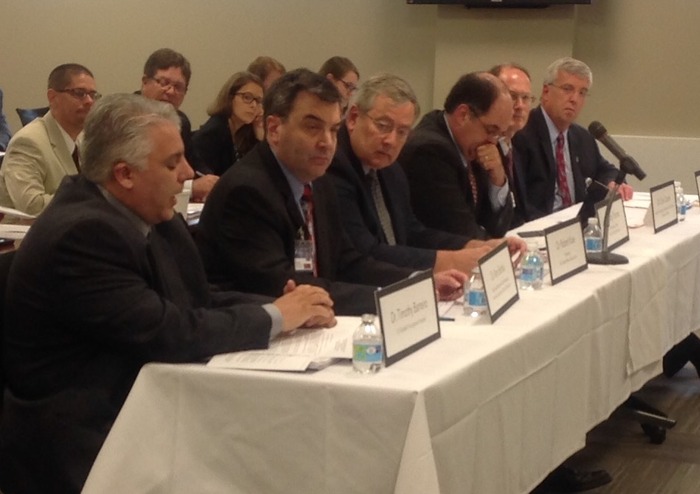 (September 2015) OOA Member Timothy J. Barreiro, DO, (far left) of Youngstown, testified, September 3, 2015, before the Ohio House of Representatives Healthcare Efficiencies Study Committee about graduate medical education. Speaking on behalf of Mercy Health, Barreiro stressed the importance of funding community based programs and the need for educating more culturally competent primary care physicians.
Committee Chair State Rep. Steve Huffman, MD (R-Tipp City) asked him to comment on issues impacting osteopathic GME, and other panel members shared figures about the number of DOs currently serving in their residency programs and the impact of the unified ACGME accreditation system for the future.
Barreiro is a pulmonary and critical care physician at St. Elizabeth Youngstown Hospital and director of a multi-disciplinary team focusing on lung disorders. Other members on the panel included Robert Frederick, MD, ProMedica; Christopher Cooper, MD, University of Toledo; Andrew Thomas, MD, OSU Wexner Medical Center; Ken Bertka, MD, Mercy Health Physicians; and Robert E. Kose, MD, Ohio State Medical Association.
The meeting, the Committee's first, was held at ProMedica Flower Hospital Administration in Sylvania. Graduate Medical Education was the sole topic. Three additional hearings, each dedicated to a specific healthcare topic, are scheduled (see below). The committee is examining health care efficiencies that lead to better health outcomes at a lower cost to Ohioans.
In addition to Huffman, Committee members are State Reps. Andrew Brenner (R-Powell), Bob Cupp (R-Lima), Doug Green (R-Mt. Orab), Sarah LaTourette (R-Bainbridge Twp.), Mark Romanchuk (R-Mansfield), Scott Ryan (R-Newark), Christie Bryant Kuhns (D-Cincinnati) and Emilia Sykes (D-Akron).
Ohio House of Representatives
Healthcare Efficiencies Study Committee
SCHEDULE

Behavioral Health
Tuesday, September 8, 2015 1:00 pm
Shawnee State University, 940 2nd St, Portsmouth 45662
Medicaid and Aging
Wednesday, September 16, 2015 12:00 pm
MetroHealth Main Campus, 2500 MetroHealth Drive, Cleveland 44109
Children's Health, Innovative Medical Savings, and Population Health Management
Tuesday, September 22, 2015 2:00 pm
Mercy Health - Fairfield Complex, 3050 Mack Road, Fairfield 45014
2014 OOA
Member Census
FREE IT Services Checkup
Chance to win $100 Visa Gift Card
Access to other Members-only Benefits
Call (855) 319-7828 today
to schedule a complimentary practice consultation.
An hour with our team could save you thousands of dollars!
Upcoming Events