OU-HCOM Opens New Campus in Cleveland
School Aims to Provide More Primary Care Physicians for Northeast Ohio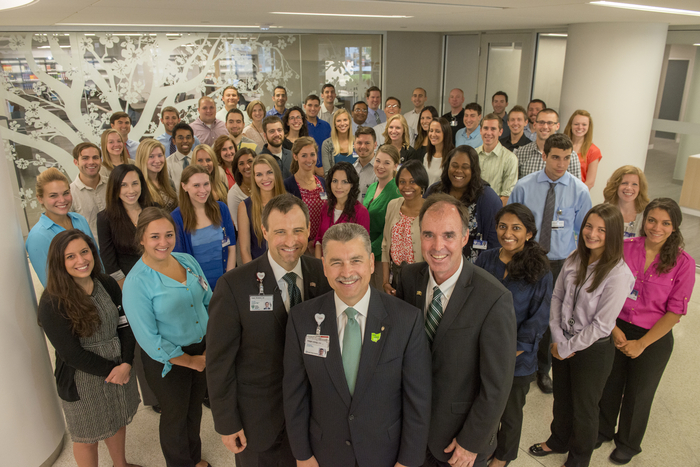 (July 8, 2015) The Ohio University Heritage College of Osteopathic Medicine has opened a new campus in affiliation with Cleveland Clinic on the campus of its South Pointe Hospital in Warrensville Heights, to address the pressing need for more primary care physicians in northeast Ohio and the rest of the country.
The first class of 51 medical students arrived for classes today at the Heritage College, Cleveland. Many of these students have been recruited from northeast Ohio, with the knowledge that if they train and complete their residencies in the area, they will be more likely to remain here to practice after they graduate. The college is working closely with Cleveland Clinic and other area health care providers to ensure that clinical training slots are available for these students.
Within the next decade, experts predict a national shortage of more than 45,000 primary care physicians. The 20 percent of Americans living in rural or inner-city primary care Health Professional Shortage Areas (HPSAs) will be hit the hardest, according to the Association of American Medical Colleges Center for Workforce Studies. Northeastern Ohio, which includes Cuyahoga, Lorain, Geauga, Summit, Medina, Portage, and Lake counties, has the largest number of HPSAs in Ohio. The campus will showcase a model of medical education that emphasizes physician teamwork and will be linked to the Heritage College's other two campuses through state-of-the-art telecommunications technology. Specially designed group workstations, or "learning pods," do away with old auditorium-style lecture halls and allow students and instructors at all three Heritage College campuses – each with its own full contingent of students, faculty and staff – to interact in real time via teleconferenced learning activities and instantaneous sharing of slides, video or other electronic materials.
Cleveland campus Dean Isaac J. Kirstein, DO, said the partnership allows Cleveland Clinic to take advantage of the Heritage College's proven ability to turn out the best in primary care physicians who stay in Ohio to practice.
"I think the biggest opportunity to align with Cleveland Clinic is in value-based care," Kirstein said. "We have to provide high-quality health care at a lower cost. And anyone who's tried to crack this nut realizes the answer is really good community-based primary care."
Heritage College Executive Dean Kenneth H. Johnson, DO, said the college's new campuses represent an innovative approach to training doctors, that aims to meet the nation's most pressing health care needs.
"The focus as we've expanded has been to re-dedicate ourselves to primary care," Johnson said. "And this new campus is intended to be a model for medical education that addresses the shortage of primary care physicians."
Cleveland Clinic and the Heritage College signed an affiliation agreement in June 2012 to develop a campus at the Cleveland Clinic South Pointe Hospital site. This agreement built on a longstanding relationship between the college and Cleveland Clinic, having served as an undergraduate and graduate medical education site for the college for well over three decades.
"We are changing the way health care is going to be taught and the way it's going to be delivered," said J. Stephen Jones, MD, president of Cleveland Clinic Regional Hospitals and Family Health Centers. "This partnership fits together perfectly with the Heritage College's leadership in primary care education and Cleveland Clinic's reputation in specialty care."
2014 OOA
Member Census
FREE IT Services Checkup
Chance to win $100 Visa Gift Card
Access to other Members-only Benefits
Call (855) 319-7828 today
to schedule a complimentary practice consultation.
An hour with our team could save you thousands of dollars!
Upcoming Events