OOA Member Honored by Chinese Government
(September 28, 2015) OOA Member William J. Burke, DO, has been recognized by a province in Chi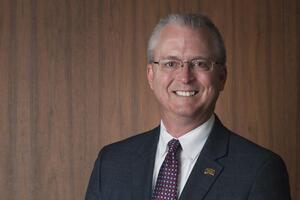 na for his work there to improve the training of primary care physicians.
Burke, dean of the central Ohio campus of Ohio University's Heritage College of Osteopathic Medicine, was invited to China to receive the Tianfu Friendship Award, conferred by the government of China's Sichuan Province. The award is presented annually to persons from other countries who have made outstanding contributions to Sichuan's economic and social development. The Sichuan Province, the country's fourth largest province, is located in southwest China and has a population of over 81 million people. The award was presented September 17.
Burke's contribution has been through his service as team leader of the International Primary Care Educational Alliance (IPCEA), an organization founded under the auspices of the American College of Osteopathic Family Physicians Education and Research Foundation. The IPCEA is leading the effort by members of the osteopathic medical profession to help train more Chinese physicians in primary care. Seeking to enhance access, improve care quality and lower its cost, the Chinese government has mandated that all the country's provinces move toward a primary care-centered model of health care delivery.
Burke, who serves on the American Osteopathic Association Board of Trustees, has made more than a do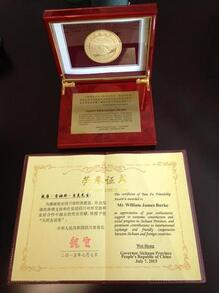 zen trips to China since 2007, based on his roles with IPCEA and initially with the American Osteopathic Foundation's China Primary Care Program Team.
In 2013, IPCEA signed a memorandum of understanding with the Sichuan Provincial Health Department and the Primary Care Training Center of Sichuan, to extend its training program. Burke has led a team of osteopathic physicians, who have helped teach Chinese medical educators how to better train and evaluate medical residents for primary care.
Sichuan officials have praised Burke and his team for providing intensive hands-on training, including instruction on how to effectively communicate with patients, demonstrate empathy and gather medical histories. They note that Burke and his team have visited 15 hospitals and 20 community health centers in the province to share their teaching expertise.
Burke has also organized a program in which every two years, a 20-member delegation from Sichuan spends three weeks training in the United States.
Look for a feature story about Burke in the winter 2016 issue of Buckeye Osteopathic Physician.
2014 OOA
Member Census
FREE IT Services Checkup
Chance to win $100 Visa Gift Card
Access to other Members-only Benefits
Call (855) 319-7828 today
to schedule a complimentary practice consultation.
An hour with our team could save you thousands of dollars!
Upcoming Events