DO-Legislator Wants to Designate April as Osteopathic Medicine Month
(Updated December 22, 2015) State Rep. Terry Johnson, DO (R-McDermott) introduced HB 352 in October to designate April as "Osteopathic Medicine Recognition Month" in honor of the significant contributions made by the osteopathic field of medicine to improve the health of Ohioans.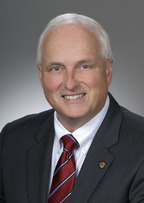 During testimony before the House of Representatives Health and Aging Committee, October 14, he said: "Proud as we are of our osteopathic profession and the great impact that we have had on the health and well being of not only Ohio's citizens but the people of the entire nation, we are just as proud of our MD brothers and sisters and all the other members of America's health care team. At the end of the day, when all is said and done, I go back to an axiom that was taught to me in my osteopathic medical training and repeated time after time until it was indelibly etched into the matrix of my mind: IATP. It's About The Patient. That is something, I believe, that we can all rally around…"
The bill was passed by the committee and then unanimously passed, 94-0, the Ohio House of Representatives, 
November 17. View Johnson's speech on The Ohio Channel (at 142:30). "As a doctor of osteopathic medicine myself, I have a good sense of the dedication and professionalism that my osteopathic colleagues bring to their patients each and every day across our great state," Johnson said. "They make a wonderful difference in people's lives, one patient at a time."
The bill now moves to the Ohio Senate for further consideration.
2014 OOA
Member Census
FREE IT Services Checkup
Chance to win $100 Visa Gift Card
Access to other Members-only Benefits
Call (855) 319-7828 today
to schedule a complimentary practice consultation.
An hour with our team could save you thousands of dollars!
Upcoming Events