Kasich Announces Plan to Maximize OARRS Use
Goal is to Integrate OARRS with EHRs
(October 30, 2015) The Ohio Automated Rx Reporting System (OARRS) will integrate directly into electronic medical records and pharmacy dispensing systems, per a new project announced by Gov. John Kasich at a press conference, October 26. The state will make up to a $1.5M annual investment to enable prescribers and dispensers to automatically check past opiate history within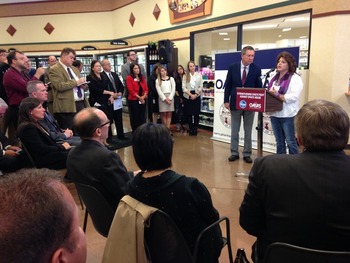 the same system they use day-to-day.
Earlier this year, Kroger integrated OARRS into its pharmacy computer platform, providing an instant check prior to a patient receiving any controlled substance prescription at their 226 Ohio stores. As a result, Kroger pharmacists increased their use of OARRS from 10 percent to 100 percent. This partnership was made possible with grant funding provided by the State Board of Pharmacy.
OOA President Robert W. Hostoffer, Jr., DO, said instant, easier access to the prescription drug monitoring database is welcome. "We are already seeing record use of OARRS by physicians and pharmacists," he noted. "Ohio must continue to look for ways to fight against opiate misuse, abuse and overdose."
Starting in 2011, the state began implementing rules requiring prescribers and pharmacists to utilize the State Board of Pharmacy's Ohio Automated Rx Reporting System (OARRS) to provide a complete view of what additional controlled substance medications a patient may be receiving from other prescribers or pharmacies. Recent promising data shows that doctor shopping, the practice of obtaining controlled substances from multiple health care practitioners without the prescribers' knowledge of the other prescriptions, has decreased and the number of opiate prescriptions has dropped.
The Board of Pharmacy has set up a special website for the integration project: http://www.pharmacy.ohio.gov/integration
2014 OOA
Member Census
FREE IT Services Checkup
Chance to win $100 Visa Gift Card
Access to other Members-only Benefits
Call (855) 319-7828 today
to schedule a complimentary practice consultation.
An hour with our team could save you thousands of dollars!
Upcoming Events