Ohio Issues Acute Pain Prescribing Guidelines
(January 2016) The Governor's Cabinet Opiate Action Team (GCOAT) released new opioid prescribing guidelines for the treatment of patients with acute pain, during a news conference, January 19, led by Lt. Governor Mary Taylor.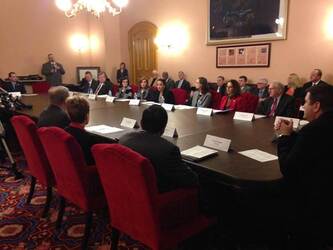 The new guidelines address short-term acute pain from injuries, or surgical and dental procedures that is expected to resolve within 12 weeks. Cynthia S. Kelley, DO, of Akron; Cleanne Cass, DO, of Dayton; and Mark N. Malinowski, DO, of Chillicothe, helped to write the guidelines, which specifically mention osteopathic neuromusculoskeletal medicine as an alternative to opioids.
"The new guidelines urge prescribers to first consider non-opioid therapies and pain medications for the management of acute pain when appropriate to avoid the potential misuse and abuse of opioids that can lead to addiction," said Mary DiOrio, MD, medical director of the Ohio Department of Health. "When opioid medications are necessary to manage a patients acute pain, the guidelines recommend that the clinician prescribe the minimum quantity necessary without automatic refills."
OOA Executive Director Jon Wills was quoted in an Associated Press story about the new guidelines after the news conference. Other OOA members working to address the opioid epidemic include State Rep. Terry Johnson, DO, and R. Aaron Adams, DO, of Portsmouth. The new acute care guidelines complement previous GCOAT efforts targeting emergency departments and chronic care in outpatient settings.
Other Resources:
Fact Sheet
Video Message from Gov. Kasich
Prescribing Guidelines Summary
Prescribing Guidelines Website
2014 OOA
Member Census
FREE IT Services Checkup
Chance to win $100 Visa Gift Card
Access to other Members-only Benefits
Call (855) 319-7828 today
to schedule a complimentary practice consultation.
An hour with our team could save you thousands of dollars!
Upcoming Events