Medical Students Get Results of DO Match Day
Half of Applicants Choose Residencies in Primary Care
(February 08, 2016) Today 2,063 graduating osteopathic medical students successfully matched to osteopathic residencies, according to the American Osteopathic Association (AOA). The other half of the Class of 2016 awaits the results of the MD Match, to be announced March 14.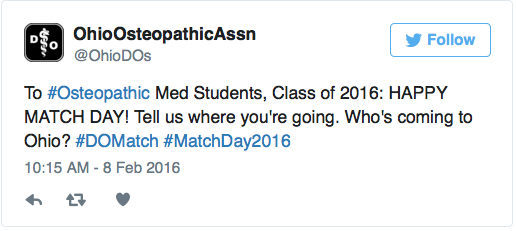 While new osteopathic physicians (DOs) and allopathic physicians (MDs) work and train together, DOs currently may choose between two systems for their post-graduate education. Those selecting the DO Match frequently pursue careers in primary care, as evidenced by today's results:
Of the 3,050 current and recent graduates who participated in the AOA Intern/Resident Registration Program, 74% successfully matched for a total of 2,255 placements.
Primary care accounted for 50% of all matches with a total of 1,118 placements.
77 applicants matched in obstetrics and gynecology, up from 74 matches in 2015.
65 applicants matched into pediatrics, up 27% from last year.
Psychiatry matched 54 applicants, an increase of 31% from last year.
118 applicants matched into orthopedic surgery, up 9% from last year.
1,017 positions were filled in non-primary care specialties.
Ohio Osteopathic Association (OOA) President Robert W. Hostoffer, Jr., DO, noted osteopathic medicine is one of the fastest growing segments of health care. "Nationwide, one of every four incoming medical students attends an osteopathic medical school," he said. "This year in Ohio, we had one of the largest classes of incoming medical students in the state with Ohio University College of Osteopathic Medicine's three campuses in Athens, Dublin, and Cleveland."
The AOA and the Accreditation Council for Graduate Medical Education are entering the second year of a five year transition to a single accreditation system for graduate medical education.
During the transition, graduating DOs may choose to participate in either match and MD graduates may apply to ACGME programs that have received osteopathic recognition. By July 2020, most DO and MD residents will join in a unified match, in which all participants can choose residency programs with an osteopathic focus.
The following Ohio institutions participated in the match:
Summa Akron City Hospital
O'Bleness Memorial Hospital, Athens
St. Elizabeth Boardman Hospital
Adena Health System, Chillicothe
Fairview Hospital, Cleveland
Metro-Health Medical Center, Cleveland
Doctors Hospital, Columbus
Tri-County Dermatology, Cuyahoga Falls
Western Reserve Hospital, Cuyahoga Falls
Grandview Hospital & Medical Center, Dayton
East Liverpool City Hospital
Holzer Health System, Gallipolis
Fairfield Medical Center, Lancaster
Marietta Memorial Hospital
Affinity Medical Center, Massillon
UH Parma Medical Center
UH Regional Hospitals, Richmond Heights
Firelands Regional Medical Center, Sandusky
Mercy St Vincent Medical Center, Toledo
Promedica Toledo Hospital
St Joseph Health Center, Warren
South Pointe Hospital, Warrensville Heights
St John Medical Center, Westlake
2014 OOA
Member Census
FREE IT Services Checkup
Chance to win $100 Visa Gift Card
Access to other Members-only Benefits
Call (855) 319-7828 today
to schedule a complimentary practice consultation.
An hour with our team could save you thousands of dollars!
Upcoming Events