New Strategic Vision Developed for Ohio DOs
(January 2017) The idea for a family-wide strategic plan was born several years ago when OOA Executive Director Jon F. Wills and Ohio University Heritage College of Osteopathic Medicine (OU-HCOM) Executive Dean Kenneth H. Johnson, DO, were on their monthly conference call. Ohio was facing the daunting tasks of opening two new campuses in Cleveland and Dublin, possible restructuring of the Centers for Osteopathic Research and Education (CORE) to facilitate ACGME accreditation, providing preceptors and postdoctoral training opportunities for an expanding student enrollment and preparing for leadership changes at OOA and partner organizations. The OOA, OU-HCOM and CORE executive committees met in November 2013 to begin the visioning process. Eventually a professional facilitator was retained to move the process forward. And late last year, the OOA Board of Trustees adopted a new strategic vision and mission for osteopathic medicine in Ohio.
"The timing was right," said OOA President Geraldine N. Urse, DO. "We really needed to put together a roadmap for the future," she said. "Particularly because Jon Wills is preparing to retire this year. Now we can say to the next executive director, 'here's the direction we want to go, help us get there.'"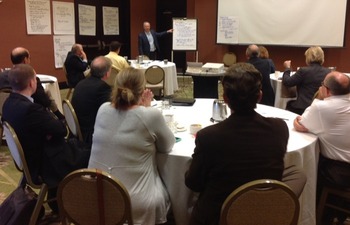 With the help of facilitator Josh Mintz, of Cavanaugh Hagan Pierson & Mintz, a management consulting firm in Washington, DC, the process included one-on-one interviews with key informants, an online survey, focus groups, and a final summit with leaders from the OOA, OU-HCOM, CORE, and Osteopathic Heritage Foundations. Strategic Summit Recommendations
Interviews with 10 thought leaders in the profession were conducted to identify major issues, opportunities and challenges facing osteopathic medicine and osteopathic medical education. Interview Report
That was followed by the survey sent to 4,000 individuals in the OOA database, including members, non-members, students, residents, medical educators, and hospital administrators. Designed to obtain input from a broad cross-section of the osteopathic medical community, it netted a response rate of approximately 10 percent, which is consistent with the average 10-15 percent response rate for external surveys (e.g., member/customer surveys), making it statistically valid. Survey Report
Urse said some general themes regarding opportunities and challenges emerged from the survey:
Maintaining osteopathic identity and distinctiveness, particularly in light of the shift to the single accreditation system.
Development and sustainability of osteopathically-recognized residency programs within the ACGME system.
Ensuring access to quality osteopathically-recognized residencies, fellowships, training programs and clerkships, particularly given the growth in the number of DO graduates and the shift to the single accreditation system.
Promoting the use of OPP and OMT as an integral part of practice to ensure care.
Increasing the number of primary care physicians and addressing the growth of other health professions (mid-level providers) in primary care delivery.
Overall, respondents rated continuing medical education and advocacy as the OOA's most important services. Rounding out the top six: public awareness, research, leadership development, and community building.
As a final step in data collection, three separate focus groups were held, each with distinct participants: OOA board members, osteopathic medical students, and representatives from the graduate medical education community including staff from Lake Erie College of Osteopathic Medicine and AT Still University. Focus Group Report
Across all three focus groups, the question of "osteopathic identity" was a key topic, particularly given the desire to grow OOA's membership, the transition to the single accreditation system and the equal acceptance of osteopathic physicians within health systems and among the public. Three distinct definitions of identity were shared during the focus groups: osteopathic physicians, physicians who practice osteopathically, and physicians.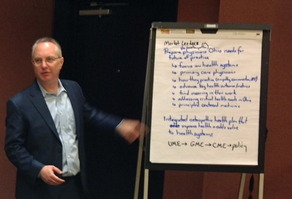 As one participant in the GME focus group noted, being an osteopathic physician used to be a group identity. If you were a DO, you trained within the osteopathic community, practiced in osteopathic hospitals and referred to other osteopathic physicians. Today, having won the battles for professional equality, being an osteopathic physician is more of an individual sense of identity. DOs are now osteopathic by choice, not by requirement. This presents both opportunities and challenges for the OOA as it plans for the future.
"How the OOA navigates this issue is more than a matter of semantics," said Urse. "It influences so many areas of the OOA: our mission, what types of programs and services we offer, our definition of membership."
Regarding the latter, there was a high level of support across all three focus groups to consider opening membership in OOA to MDs who have trained in osteopathically-recognized residency programs. A majority of participants also supported opening membership to any MD who wants to be connected to the osteopathic community.
While not recommending that membership be opened to other health professions, in light of the shift to more interprofessional practice and collaborative care teams, there was an openness to engaging other health professions in OOA's CME programs and conferences, as appropriate.
Urse said the student focus group was also insightful. "They shared why they thought their peers lose their osteopathic identify over time," she said. "How the OOA can address and respond to that situation will only help and strengthen our profession in the long run."
Participants agreed that with the transition to the single accreditation system it could be difficult to build strong connections with graduates once they enter residency, particularly those DOs who don't enter osteopathically-recognized programs. It's important for the OOA to demonstrate value and relevance to students throughout their four years of medical school to keep them as members during residency and beyond.
One focus group participant, noting that younger DOs are the future of the profession and comprise the largest segment of osteopathic physicians, said: "If we cannot engage this cohort of DOs, there is no long-term future for the profession."
All of the data from the interviews, survey, and focus groups was used to frame the discussion at the final Strategy Summit, held May 12-13, 2016, in Columbus, where the new vision, mission, and strategic framework were drafted.
Urse said while the Summit agenda focused on the OOA's role, participants also recognized that the osteopathic community in Ohio functions as a system. "When envisioning the future, we needed to consider the roles and contributions of the entire system—not just the OOA," she said.
With that in mind, the Summit focused on five key questions:
How does the changing sense of "osteopathic identity" among DOs impact the future of OOA (e.g., composition of membership, expectations for engagement, role as a "professional home")?
As the landscape for continuing medical education becomes more complex, competitive and uncertain, what should be the future of OOA's continuing medical education programs, both in terms of content focus and delivery strategy?
OOA has historically focused on advocacy to ensure full and equal practice rights for osteopathic physicians and to combat systemic discrimination against osteopathic medicine. Now that DOs have achieved parity with MDs in terms of practice rights and DOs are no longer facing systemic discrimination, what should be the future of OOA's advocacy efforts?
OOA's programs and services have traditionally been focused on the needs of, and provided value to, osteopathic physicians working in independent or small group practice. As the majority of osteopathic physicians in Ohio are now employed by large group practices and health systems, how can OOA demonstrate value in these health systems?
Recognizing that the osteopathic community in Ohio functions as a system, how do we collaborate across organizations to advance shared goals? What are the roles and contributions of each member of the "osteopathic alliance" that is comprised of the multiple organizations contributing to the advancement of osteopathic medicine in Ohio.
Looking to the future, Summit participants identified the statewide vision for osteopathic medicine: Improving the health of the people of Ohio by delivering on the promise of osteopathic medicine.
Urse said delivering on the promise of osteopathic medicine means preparing the kind of physicians that are needed to advance health in our state. That means physicians who are grounded in the tenets of osteopathic medicine espoused by Andrew Taylor Still, MD, DO.
She explained that much of the discussion centered on the "quadruple aim." Most physicians are familiar with the "triple aim" with its three objectives to optimize health system performance: by enhancing patient experience, improving population health, and reducing costs. The quadruple aim adds the goal of improving the work life of health care providers, including clinicians and staff. The addition recognizes that physicians and others on the health care team report widespread burnout and dissatisfaction—which often leads to lower patient satisfaction and reduced health outcomes.
All of the strategic planning partners agree that reaching the vision is not the work of the OOA alone. Achieving improved health outcomes for all Ohioans will require cooperation among many, including the osteopathic organizations in Ohio.
2014 OOA
Member Census
FREE IT Services Checkup
Chance to win $100 Visa Gift Card
Access to other Members-only Benefits
Call (855) 319-7828 today
to schedule a complimentary practice consultation.
An hour with our team could save you thousands of dollars!
Upcoming Events