COA Announces 2017 Award Recipients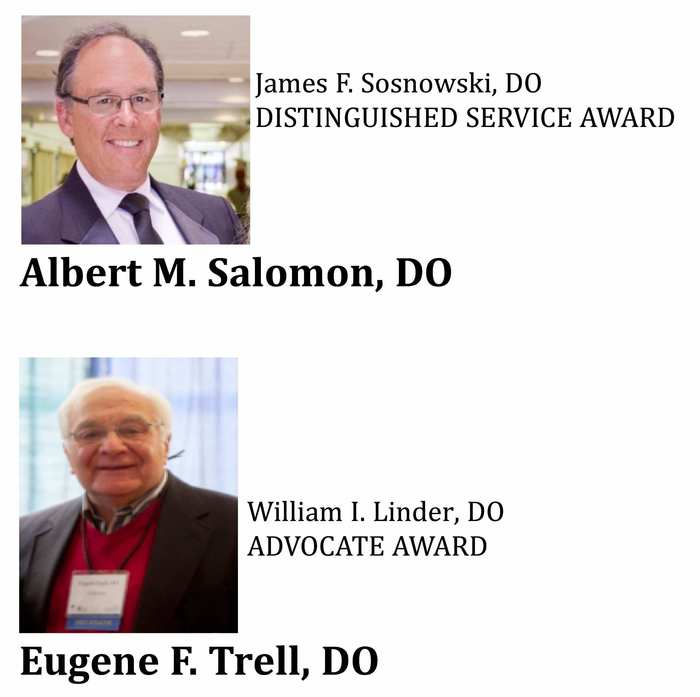 (March 2017) The Columbus Osteopathic Association (COA) will present its highest honors at the Annual Meeting & Dinner, March 9, at The Grand Event Center at Grandview Yard. Awards are given annually to recognize exemplary accomplishments in personal, scientific, community and professional affairs, especially in service to the osteopathic profession.
James F. Sosnowski, DO, Distinguished Service Award
Named for Captain James F. Sosnowski, DO, the Distinguished Service Award, was instituted in 1988 in memory of the only DO killed in action in Vietnam. On February 16, 1968, a mortar shell directly hit a field hospital in Tay Ninh, Vietnam, where Dr. Sosnowski, who trained at Doctors Hospital in Columbus, was in the operating room with his patient, an American soldier. Both were killed instantly. Dr. Sosnowski, who was president of his graduating class at Des Moines University College of Osteopathic Medicine, was two weeks shy of his 28th birthday.
Albert M. Salomon, DO, has served the osteopathic profession on the state and local level for the past 20 years. He served on the COA Executive Council and then as president in 2002-2003. He was the COA representative on the OOA Board of Trustees for seven years and served in every officer position at the OOA before becoming president in 2011. He is a COA delegate at the OOA House of Delegates and also serves at the AOA House in Chicago. He continues to support COA through his attendance at dinner meetings and other events.
Through organized medicine, he has advocated for physicians, patients, and health care system reform. He has worked on a variety of issues and legislative proposals and was actively involved several years ago with legislation to combat prescription drug abuse. He also supports advocacy efforts by regularly contributing to the statewide osteopathic political action committee. He represents the profession on the State of Ohio Stroke Council.
Dr. Salomon is a fellow of the American College of Osteopathic Internists and clinical assistant professor at OU-HCOM. He is in private practice in Gahanna and serves as medical director of a local hospice organization.
William I. Linder, DO, Advocate Award
The Advocate Award, established in 1997, is named in memory of William I. Linder, DO, who served as editor of the COA publication called The Advocate. The newsletter allowed him to marry his writing skills to his great love of medicine. Many of his articles were called prophetic in their ability to predict some of the ways in which medicine has evolved. Dr. Linder was a great proponent of osteopathic medicine and osteopathic medical education. One of the songs he loved to play on his guitar (he was not only a skilled physician and talented writer, but also a musician) was one he wrote himself about Dr. Andrew Taylor Still.
Eugene F. Trell, DO, started his medical career in Columbus after graduating from DesMoines College of Osteopathic Medicine in 1962. He's been an advocate and supporter of the profession ever since.
Throughout his 30 years in medicine he advocated for the profession and for its future. Passionate about education, he enjoyed training and working with Anesthesia residents. In the '70s he was heavily involved with the creation of Ohio University's osteopathic medical school.
Before retiring from active practice in 1994, Dr. Trell served in many leadership positions, including COA president; Doctors Hospital Medical Staff president; chair of the Anesthesia Department; and a member of the OhioHealth Foundation Board.
2014 OOA
Member Census
FREE IT Services Checkup
Chance to win $100 Visa Gift Card
Access to other Members-only Benefits
Call (855) 319-7828 today
to schedule a complimentary practice consultation.
An hour with our team could save you thousands of dollars!
Upcoming Events