Medical Board Limits Opiate Prescriptions for Acute Pain
Diagnosis Codes Required on Prescriptions Starting Dec. 29, 2017
(September 1, 2017) At a press conference August 30, Ohio Gov. John Kasich discussed new prescription rules that he said would save lives and fight addiction. Effective August 31, the state's health care regulatory boards will implement new limits on prescriptions issued for the treatment of acute pain. The rules are intended to treat conditions resulting in acute pain, including those that normally fade with healing such as a surgical procedure or a bone fracture. According to Kasich, the adoption of these rules can lead to an estimated reduction of opiate doses in Ohio by 109 million per year while preserving the ability of clinicians to address pain in a competent and compassiona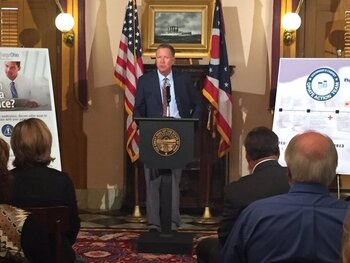 te way.
"It is a tough battle, but Ohio's efforts are paying off and have helped the state reduce opiate prescriptions by 20 percent and doctor shopping by 78 percent—that means fewer opiates in circulation for illegal diversion or unauthorized use," Kasich said, noting prescription opiates are often the gateway to heroin use.
The new rules do not apply to the use of opioids for the treatment of chronic pain. In general, the rules limit the prescribing of opioid analgesics for acute pain, as follows:
No more than seven days of opioids can be prescribed in the initial prescription for adults.
No more than five days of opioids can be prescribed in the initial prescription for minors, and only after the written consent of the parent or guardian is obtained.
Health care providers may prescribe opioids in excess of the day supply limits only if they provide a specific reason in the patient's medical record.
Except as provided for in the rules, the total morphine equivalent dose (MED) of a prescription for acute pain cannot exceed an average of 30 MED per day.
The new limits do not apply to opioids prescribed for cancer, palliative care, end-of-life/hospice care or medication-assisted treatment for addiction.
To help enforce the limited exceptions to the rules and enhance data regarding prescribing trends, prescribers will be required to include a diagnosis or procedure code on every controlled substance prescription, which will be entered into Ohio's prescription monitoring program, OARRS. This provision goes into effect December 29, 2017, for all opiate prescriptions and June 1, 2018, for all other controlled substance prescriptions.
In addition, starting December 29, 2017, a new rule will also require prescribers to indicate the days' supply on all controlled substance and gabapentin prescriptions.
Interestingly, heroin and fentanyl deaths have dwarfed prescription pill-related deaths. According to a new Ohio Department of Health report, 4,050 Ohio residents died last year of unintentional drug overdoses, up 32.8 percent from 2015. Of those deaths, fentanyl and carfentanil were involved in more than half. Fentanyl is considered 50 times stronger than heroin.
In related news, the Ohio Department of Mental Health and Addiction Services announced a new campaign focused on physician prescription writing called Take Charge Ohio. Manage Pain. Prevent Medication Abuse.
Read more about the new limits on prescription opioids for acute pain.
2014 OOA
Member Census
FREE IT Services Checkup
Chance to win $100 Visa Gift Card
Access to other Members-only Benefits
Call (855) 319-7828 today
to schedule a complimentary practice consultation.
An hour with our team could save you thousands of dollars!
Upcoming Events