OOA Installs President for 2018-2019
Physician from Dayton-area to Lead Statewide Group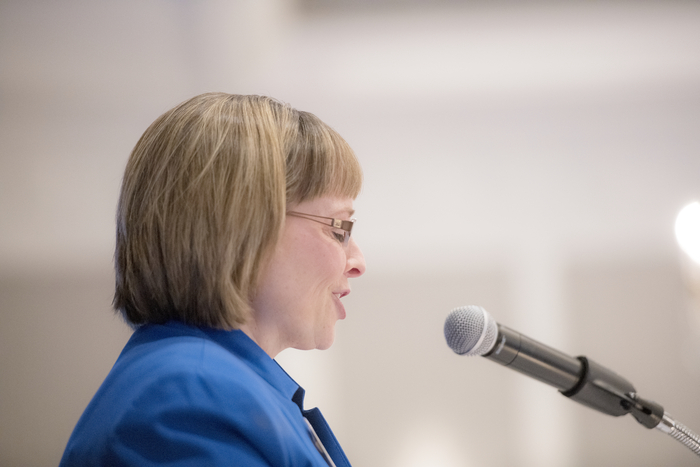 (Spring 2018) Jennifer J. Hauler, DO, of Tipp City, was installed as president of the Ohio Osteopathic Association during a special ceremony and luncheon at the Ohio Osteopathic Symposium, April 27, in Columbus.
Hauler, a family and emergency physician, is vice president and chief medical officer at Premier Health in Dayton. She is also a paramedic instructor and medical director of the Troy and Vandalia fire departments.
A leader within the medical profession, she has served on the OOA Board of Trustees since 2009 and was president of the Dayton District Academy of Osteopathic Medicine. On the OOA Board, her work has focused on membership and governance initiatives.
She is the recipient of numerous honors—starting when she was a student at Ohio University College of Osteopathic Medicine, where she graduated in 2001: Student of the Year at the Southwest CORE; Intern of the Year and Resident of the Year at Grandview Medical Center in Dayton; Ohio ACOFP Young Family Physician of the Year; Frank W. George Family Medicine Research Award; and induction into the Sigma Sigma Phi Academic Honor Society.
Hauler also holds an MBA from the Kelley School of Business at Indiana University.
In addition to Hauler, the OOA officers for 2018-2019 are:
President-Elect Charles D. Milligan, DO, of Orville
Vice President Sandra L. Cook, DO, of Geneva
Treasurer Henry L. Wehrum, DO, of Columbus
Immediate Past President Sean D. Stiltner, DO, of Piketon
The OOA is a non-profit professional association, founded in 1898, that represents Ohio's 4,700+ osteopathic physicians. Osteopathic physicians represent 16 percent of all physicians practicing in Ohio and 28 percent of the family physicians in the state. Among the OOA's objectives are promoting the public health of Ohioans and maintaining high quality standards at all osteopathic institutions.
2014 OOA
Member Census
FREE IT Services Checkup
Chance to win $100 Visa Gift Card
Access to other Members-only Benefits
Call (855) 319-7828 today
to schedule a complimentary practice consultation.
An hour with our team could save you thousands of dollars!
Upcoming Events