First DO Elected To the Ohio House of Representatives
Terry A. Johnson, DO, a family physician from Lucasville, has been elected to represent the 89th district in the Ohio House of Representatives!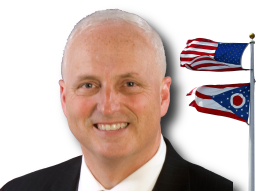 Johnson, a Republican, is the first DO to ever serve in the Ohio General Assembly and believed to be the first physician to be elected to a state office since the 1930's. A graduate of the Ohio University College of Osteopathic Medicine, he is currently serving his third term as Scioto County coroner.
"This is a historic event, not only for Dr. Johnson, but for the entire osteopathic profession," said OOA President Shield M. Wikas, DO. "We are extremely proud of Terry and look forward to working with him to address healthcare issues in the state of Ohio."
Johnson is director of the family practice residency program at Southern Ohio Medical Center (SOMC). He also serves as assistant dean of the Ohio University College of Osteopathic Medicine.
"I am proud to be an osteopathic physician!" said Dr. Johnson. " I consider the medical profession as a calling, and I have never once regretted choosing this path. It has enabled me to help many thousands of people through their healing experiences, to serve my state and my country as a military physician, and as a medical educator to take part in the training of hundreds of doctors."
A veteran of the Global War on Terror, Johnson is a colonel in the Ohio Army National Guard and just completed a seven year wartime command of Ohio's Medical Detachment. He recently assumed the new responsibilities of Joint Forces State Surgeon and State Surgeon of the Ohio Army Guard. He has completed three tours of duty in Iraq.
Johnson has been married to his wife, Jennifer, for 19 years. He has four children, Jesse, age 32, Steve, age 30, Tye, age 17 and Nick, age 15.
For more information visit his website: http://www.drterryjohnson.org
2014 OOA
Member Census
FREE IT Services Checkup
Chance to win $100 Visa Gift Card
Access to other Members-only Benefits
Call (855) 319-7828 today
to schedule a complimentary practice consultation.
An hour with our team could save you thousands of dollars!
Upcoming Events