OOA Mourns Loss of Alison A. Clarey, DO
OOA Past President Alison A. Clarey, DO, 63, died October 28, at her home in Dayton after a two-year struggle with breast cancer. In 1977, she became the first female surgeon practicing in Dayton and, in 2007 she was elected president of the American College of Osteopathic Surgeons (ACOOS), the first woman to hold that position.
"Dr. Clarey was part of a dynasty of women leaders from Dayton who were nurtured by Mary L. Theodoras, DO," said OOA Executive Director Jon F. Wills. "While Dr. Theodoras was fighting for women's rights on the AOA Board of Trustees, Dr. Clarey was quietly earning the respect of her male colleagues in the operating room."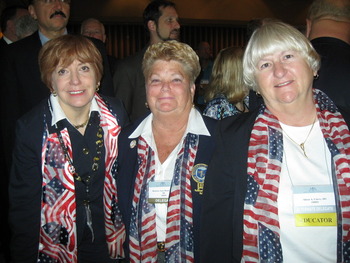 Cleanne Cass, DO, Barbara A. Bennett, DO, and Alison A. Clarey, DO, all from Dayton, are shown here during the 2009 AOA House of Delegates, waiting to congratulate Karen Nichols, DO, after being elected as the first woman to serve as President-Elect of the American Osteopathic Association. The three started a tradition of sponsoring an annual reception for women delegates, hosted by the Ohio Delegation, until Dr. Nichol's installation in 2010.
Dr. Clarey became president of the Ohio Osteopathic Association when the OOA was celebrating its 100th birthday from 1999 - 2000 -- bridging the profession's distinguished past and the challenges of the new millenium. Devoted to the world community and those less fortunate, she later received the OOA's Humanitarian Award for her annual surgical mission trips throughout the world. (Read more about her accomplishments in this obituary from the Dayton Daily News.)
"Dr. Clarey was an avid writer and retreated to the Cayman Islands to pen and later publish numerous mystery novels," said Wills, "so, the most fitting tribute we can give is to quote from her inaguaural address:"
We dare not forget that we are the heirs of that first meeting 100 years ago. We are proud of our distinguished past, and we must be unwilling to witness or permit the decline of osteopathic medicine in Ohio. The bricks and the mortar of the hospitals may be disappearing, but we are stronger in number than we have ever been. Our school is flourishing, and our way of practice is a standard for medical care. We must stay committed to our principles and meet the challenges ahead.




I began with the ancient words of Hippocrates and so I will close with his words: 'While I continue to keep this Oath unviolated, may it be granted to me to enjoy life and the practice of the Art, respected by all men, in all times.' As President of the OOA, I will do my best to enhance osteopathic medicine in Ohio and to represent your vision and dreams. We are the physicians of the next century, the new millennium. We are the heirs of the OOA founders of a century ago. As we think kindly on those who have gone before us, let us dream of what we can do for those who follow.
"What more we can say, but, thank you, Dr. Clarey for representing the OOA's vision and following your dreams."
A memorial service is scheduled at Grandview Hospital, December 9, at 2 pm. Memorial contributions may be made to the Grandview Foundation, 405 Grand Avenue, Dayton 45405.
2014 OOA
Member Census
FREE IT Services Checkup
Chance to win $100 Visa Gift Card
Access to other Members-only Benefits
Call (855) 319-7828 today
to schedule a complimentary practice consultation.
An hour with our team could save you thousands of dollars!
Upcoming Events