Ohio DOs And Students Advocate in Washington
The American Osteopathic Association convened its annual "DO Day on Capitol Hill," March 8, in Washington, DC, bringing together more than 1,000 medical students and osteopathic physicians from all over the United States for the profession's largest annual advocacy event.
Forty-one students from the Ohio University Heritage College of Osteopathic Medicine (OU-HCOM) and ten Ohio physicians were among those making the trip to Washington to meet with Congressional representatives and Senators. Issues discussed during meetings included expanding the physician workforce, ensuring adequate funding for graduate medical education, and reforming the professional liability insurance market.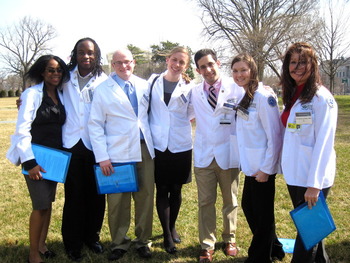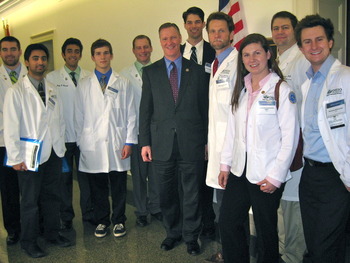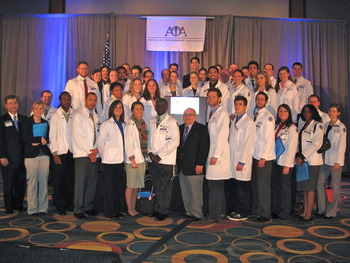 DOs and students from Central Ohio pose with Rep. Steve Stivers (R-15) (Left top); Ohio students pose in front of the nation's Capitol (above); Ohio's advocates assemble after the morning briefing (left).
Ohio DOs included OOA President Albert Salomon, DO, State Health Policy Chair Peter A. Bell, DO; Ohio ACOFP President Robert L. Hunter, DO; Ohio ACOFP President-Elect Doug Harley, DO, George Thomas, DO, Paul A. Martin, DO, Robert S. Juhasz, DO; Patrick McKenna, DO; John Casey, DO; and Robert Norman, DO. Several Ohio students from other osteopathic colleges also made visits.
AOA President Martin S. Levine, DO and AOA Past President George Thomas, DO, Chair of the AOA Bureau on Federal Health Programs, opened the program by welcoming advocates to the nation's capital. Honored guests, who spoke on their roles and responsibilities as elected leaders, included Sen. Joe Manchin (D-WV) and Rep. Bill Cassidy, MD (R-LA-06). After orientation, participants walked to Capitol Hill in their White Coats for a series of meetings with their elected representatives.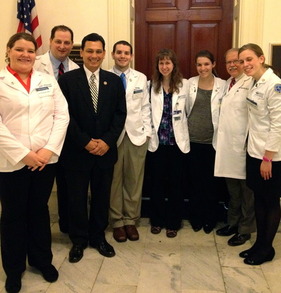 Paul A. Martin, DO, Robert L. Hunter, DO and students from Dayton pose during a meeting with Rep. Steve Austria (R-OH 7).
The Ohio team visited 12 of Ohio's 18 elected representatives and either met with the Member or legislative aide in charge of health care policy. Most of the Ohioans then gathered midday on the Capitol steps for a conversation and group photo with Sen. Sherrod Brown. The day concluded with a group visit to Sen. Rob Portman's office to talk with Legislative Aide Krista Lambo.
The OU-HCOM students reassembled and boarded the Ohio University bus at 5:30 pm to return home to Athens. The Ohio Osteopathic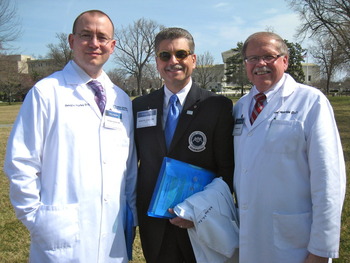 Association provides round-trip bus transportation each year so students can experience the importance of advocating for physicians and their patients with national policy makers. Arrangements were coordinated by Cassandra Adams, OMS II, president of the OU-HCOM Chapter of the Student Osteopathic Medical Association (SOMA),
Later that evening, the AOA hosted more than 200 guests at the official dedication of the profession's new National Osteopathic Advocacy Center (NOAC), the osteopathic medical profession's home in Washington, DC. President Levine, President-elect Ray E. Stowers, DO, Past President Thomas and AOA Executive Director John Crosby, all provided remarks.
Major contributors to the Greatness Fund, the genesis of the NOAC, were identified and honored, as well all those AOA family members who secured naming rights for various spaces within the NOAC. Speakers then paid tribute to the late Past Presidents John A. Strosnider, DO, and Marcelino Oliva, DO, whose leadership and vision laid the foundation and led to the establishment of the NOAC.
Guests were able to tour the state-of-the-art space and the many unique features within it, including the OMT treatment room, an interactive Digital History Display and a Wall of Honor listing all those whose generous support enabled the NOAC to come into existence.
Doctors Harley, Juhasz, and Martin (above); Sen. Sherrod Brown on the Senate steps (below)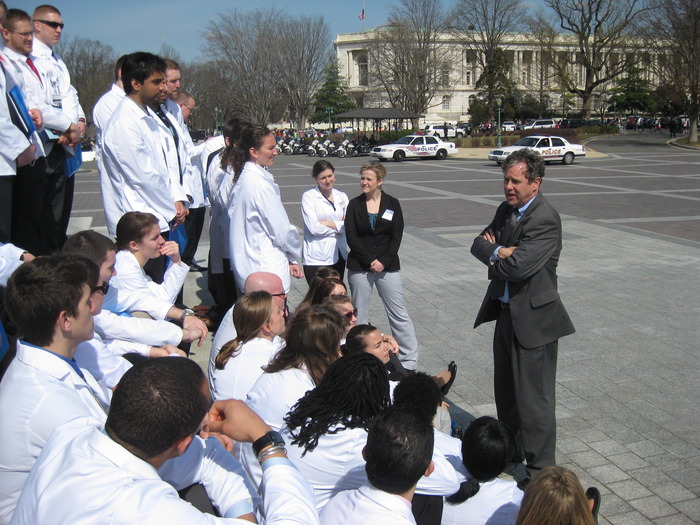 2014 OOA
Member Census
FREE IT Services Checkup
Chance to win $100 Visa Gift Card
Access to other Members-only Benefits
Call (855) 319-7828 today
to schedule a complimentary practice consultation.
An hour with our team could save you thousands of dollars!
Upcoming Events