Dayton Physician Installed as ACOFP President
Paul A. Martin, DO, FACOFP dist., of Dayton, Ohio, was inaugurated as President of the American College of Osteopathic Family Physicians (ACOFP) during the 2012 Annual Convention & Scientific Seminars in Kissimmee, Fla. Dr. Martin is an established leader within the national medical community, overseeing one of the largest multi-physician organizations in southwest Ohio. He is the founding president and current board member of Providence Medical Group, a 60-physician medical group in Dayton.


Paul A. Martin, DO takes the oath of office during the ACOFP Congress of Delegates
During his inauguration on Thursday, March 15, Dr. Martin spoke about his deep commitment to innovation within the osteopathic medical community, calling for changes in recruiting medical students, training residents and health care financing.

"Over the upcoming year of my presidency, I will be encouraging our Board of Governors and all ACOFP members to 'embrace innovation,'" said Martin. "I know that some people prefer the status quo or they grudgingly accept change or resist it altogether."

"But we must change – we must embrace innovation."

Dr. Martin earned both his B.S. in biology (cum laude) and M.S. in microbiology from the University of Dayton. He received his Doctor of Osteopathic Medicine degree (cum laude) from the Chicago College of Osteopathic Medicine. He completed his post-graduate training at Grandview/Southview Medical Center in Dayton.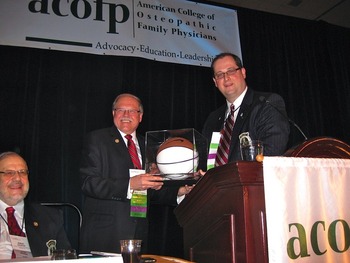 For the past 10 years, Dr. Martin has also been a member of the ACOFP Board of Governors, including service as secretary-treasurer. With ACOFP, he has also held the chairmanship of the Long Range Planning Committee and has served as a member of the Exhibits Committee, Resident and Intern Committee, Editorial Committee, the Medical Informatics Committee and the CMS/Quality Improvement Committee.

In 2008, Dr. Martin received the Distinguished Fellow Award of ACOFP, which is presented to Fellows who have exhibited exemplary service to the College.
Ohio ACOFP President Robert L. Hunter, DO, presents a basketball signed
by the Dayton Flyers Coach to Dr. Martin (left) as a gift from the Ohio Chapter
He also remains active in academic medicine. Dr. Martin serves as a clinical professor at the Ohio University College of Osteopathic Medicine and is a member of the Adjunct Faculty and Animal Research Committee at the University of Dayton.

Past and present leaders from Ohio pose with ACOFP President Paul A. Martin, DO, during the Osteopathic PAC reception in Orlando. From left to right are Past ACOFP President Robert J. George, DO; Past ACOFP President Eugene D.Pogorelec, DO: Past AOA President George Thomas, DO; Ohio ACOFP Robert L. Hunter, DO; and Dr. Martin. 2014 OOA
Member Census
FREE IT Services Checkup
Chance to win $100 Visa Gift Card
Access to other Members-only Benefits
Call (855) 319-7828 today
to schedule a complimentary practice consultation.
An hour with our team could save you thousands of dollars!
Upcoming Events