Columbus DO Resident Honored By President Obama
John R. Casey, DO, a resident at Doctors Hospital in Columbus, has been selected as one of ten "Champions of Change" as part of President Obama's Winning the Future initiative.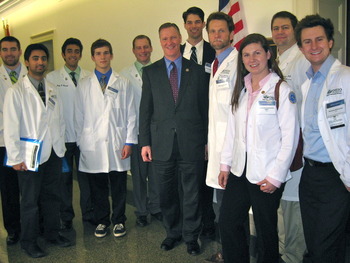 The Champions were recognized for their dedication to improving access to health care and helping others in their communities understand the impact and opportunities from the Affordable Care Act. Casey and other Champions were honored at an event at the White House, where they discussed the important work they are doing with agency representatives and White House staff.
John R. Casey, DO, second from the right (back row) recently participated in DO Day on the Hill. He's shown here with a group of physicians and OU-HCOM students visiting with Congressman Steve Stivers.
In his remarks, Casey talked about his experience as a DO. Honored by the American Osteopathic Association in 2008 as the "Most Politically Active Medical Student," he is a former Paul Ambrose and Training in Policy Studies Fellow.
Listen to the presentation below; Dr. Casey's statement begins at 20.02. For more information visit the White House web site http://www.whitehouse.gov/champions/affordable-care-act .
The Champions of Change program was created as a part of President Obama's Winning the Future initiative. Each week, a different sector is highlighted and groups of Champions, ranging from educators to entrepreneurs to community leaders, are recognized for the work they are doing to serve and strengthen their communities.
2014 OOA
Member Census
FREE IT Services Checkup
Chance to win $100 Visa Gift Card
Access to other Members-only Benefits
Call (855) 319-7828 today
to schedule a complimentary practice consultation.
An hour with our team could save you thousands of dollars!
Upcoming Events