OOA Receives Award During the AOA House of Delegates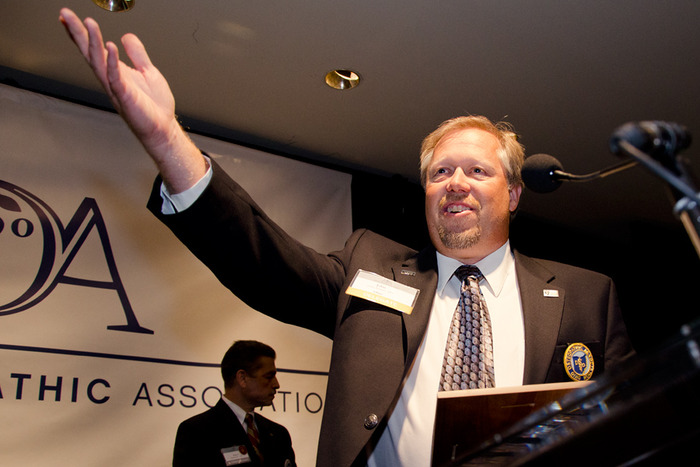 OOA President John F. Ramey, DO, asks the Ohio Delegation to stand and be recognized during the AOA House of Delegates Luncheon.
The Ohio Osteopathic Association received the American Osteopathic Association's STAR Award (Strategic Team Award and Recognition), July 19, during the House of Delegates meeting in Chicago, receiving kudos from AOA President Martin S. Levine, DO, and AOA Executive John A. Crosby, JD, for being"STARs."
The award was presented to OOA President John F. Ramey, DO and OOA Executive Director Jon Wills, during the House Awards Luncheon by AOA Trustee Robert S. Juhasz, DO,who also serves as Chair of the national's Strategic Planing Committee. The award is bestowed upon affiliate organizations that make significant contribtions to advancing the profession-wide objectives identified in the AOA Strategic Plan.
"The OOA was chosen as the first winner because it has aligned its strategic plan with the AOA Strategic Plan," said Crosby. "It has responded to all the Strategic Planning Committee surveys and requests for information this past year, and it has made significant contributions to several objectives to secure funding for obesity programs and instill our philosophies into the culture of osteopathic medical students. In doing so, it has helped advance the highest objectives of the AOA and the osteopathic medical profession."
Dr. Ramey also participated in a ceremony the following day for state osteopathic medical associations that signed the AOA Document of Collaboration, also part of the AOA's strategic plan. The document codifies the AOA's relationship with affiliate groups and outlines the mutual responsibilities each party has to the other.
Jon Wills served as a member of the ad hoc committee, composed of representatives from the Associaiton of Osteopathic State Executive Directors, which crafted the agreement and finalized the language.
2014 OOA
Member Census
FREE IT Services Checkup
Chance to win $100 Visa Gift Card
Access to other Members-only Benefits
Call (855) 319-7828 today
to schedule a complimentary practice consultation.
An hour with our team could save you thousands of dollars!
Upcoming Events