OU-HCOM Holds Its 37th Annual Convocation
Ohio Osteopathic Association President John F. Ramey, DO, and American Osteopathic Association Trustee Robert S. Juhasz, DO, welcomed 139 new students to the osteopathic profession, July 28, during the Ohio University Heritage College of Osteopathic Medicine's 37th Convocation and White Coat Ceremony in Athens.
Students were also presented with short white coats, thanks to the generosity of the Ohio Osteopathic Foundation, the OOA's charitable affiliate. Other participants included university and college officials as well as Jeffrey A. Stanley, DO, president of the OU-HCOM Society of Alumni and Friends and OU-HCOM Student Government President Simon Fraser, OMS II.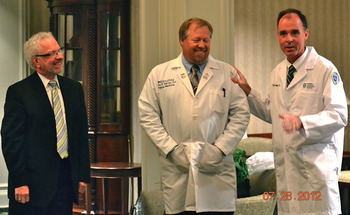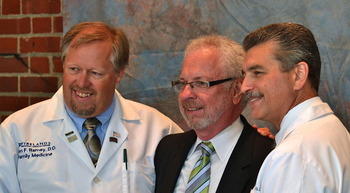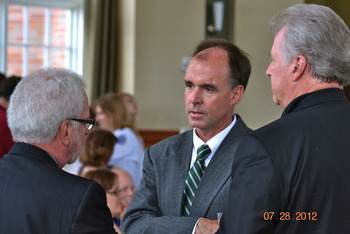 Photos Clockwise from left: OU-HCOM Dean Designate Kenneth Johnson, DO thanks OOA President John F. Ramey, DO, and OOA Executive Director Jon Wills for his white coat; Dr. Ramey, Jon Wills and AOA Trustee Robert S. Juhasz, DO; and Dr. Johnson discusses health care policy with Jon Wills and George Dunigan, OU-HCOM Director of Governmental Affairs
In a small-goup gathering prior to the public ceremony, Dr. Ramey presented a long white coat with an OOA membership arm patch to Kenneth Johnson, DO, who will take over as new OU-HCOM Dean, August 20. Ramey also awarded his first OOA President's Proclamation to Jack Brose, DO, interim dean, thanking him for his many years of service as he steps down from the dean's position and accepts a new post with the Ohio University Provost's Office.
"This is an exciting time for OU-HCOM," said Dr. Ramey. "The OOA looks forward to working with Dr. Johnson as the college opens branch campuses in Columbus and Cleveland. We also extend our sincere appreciation to Jack Brose for his incredible service to the osteopathic profession during his tenure as dean."
This year's class is largely recruited from Ohio, with 83 percent coming from Ohio communities, including 17 percent recruited from southeastern Ohio. Nineteen percent of the class consists of minority students.
The program also featured the annual presentation of the college's Phillips Medals of Public Service, the college's highest honor given to individuals who have made outstanding contributions to health care, education and/or public service. Award recipients, who gave remarks during the ceremony, included:
David L. Bronson, MD, FACP, president of the Cleveland Clinic Regional Hospitals and president of the American College of Physicians, the nation's largest medical specialty organization.
Yvette McGee Brown, JD, a justice on the Supreme Court of Ohio – the first African American woman on that court –and Ohio University graduate. Brown was also the first African American elected to the Franklin County Court of Common Pleas Domestic Division and Juvenile Branch.
2014 OOA
Member Census
FREE IT Services Checkup
Chance to win $100 Visa Gift Card
Access to other Members-only Benefits
Call (855) 319-7828 today
to schedule a complimentary practice consultation.
An hour with our team could save you thousands of dollars!
Upcoming Events