ODH Posts Concussion Education Tools Online
(2012) The Ohio Department of Health has created a Concussions in Youth Sports website with online training programs, information sheets, and other educational resources as a result of legislation passed by the Ohio General Assembly in December.
The web site contains valuable resources for players, parents, coaches, referees, and physicians. In addition to materials specifically required by the new law, the site also contains a list of frequently asked questions, fact sheets for coaches and parents, and CDC diagnosis and management educational articles for physicians.
"The OOA was a strong proponent of HB 143 which will be critical to preventing traumatic brain injury in our young athletes," said OOA President John F. Ramey, DO. "Each year more than 3,000 students are treated in the state's emergency departments for head injuries sustained on the playing field."
Since many DOs serve as team physicians, Ramey urged all OOA members to become familiar with the law, help educate players, parents and coaches, and to update their skills for the emergency management of concussions and head injuries. He said the Ohio Osteopathic Symposium program in May will include a lecture, entitled, "Friday Night Lights: Managing Concussion On and Off the Field," by Jason Dapore, DO, Columbus, who is the physician member of the Ohio Occupational Therapy, Physical Therapy, and Athletic Trainers Board.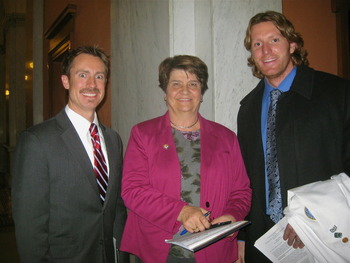 According to Simon Fraser, a second year medical student at the Ohio University Heritage College of Osteopathic Medicine, having the proper people in place to manage concussions on the sidelines is critical. Fraser, who testified as a proponent of the bill on behalf of the OOA was a three-time scholar athlete and star on the 2002 National Championship Ohio State Buckeye football team. He also played professional football for the Cleveland Browns and the Atlanta Falcons before becoming an osteopathic medical student.
Jason Dapore, DO, Sen. Peggy Lehner (R-Kettering) and Simon Fraser, OMS II, following Senate Health Committee testimony
"Many athletes live by the creed 'If I can walk, I can play,' and choose to tough out concussions to play." said Fraser during his testimony before the Senate Health Committee, November 28. "Specifically I can remember playing in Cleveland and getting my "bell rung" on a kickoff return play. I came to the sideline, gathered myself and returned to the field a couple of plays later thinking nothing of the hit to the head I had just endured because I felt fine and was determined to get back out there.
"Now that I am in medical school I am learning and understanding more about how the anatomy and physiology of concussions interplay with one another. More than ever I believe that education and having the proper people in place to manage concussions is paramount," he continued.
HB 143 (Youth Injuries), effective April 26, was sponsored by State Reps. Michael Stinziano (D-Columbus) and Sean O'Brian (D- Hubbard) with broad-based bi-partisan support. Among other things, the bill:
Prohibits a school authority from allowing a student to practice for or compete in interscholastic athletics until the student has submitted a signed form stating that the student and the student's parent or other guardian have received a concussion and head injury information sheet created by the Department of Health.
Requires a youth sports organization to furnish the ODH information sheet to the parent or other guardian of young athletes who wish to practice for or compete in an athletic activity.
Requires coaches, referees, and officials of interscholastic athletics and youth sports organizations to remove a player who exhibits signs, symptoms, or behaviors consistent with having sustained a concussion or head injury from practice or competition.
Prohibits coaches, referees and officials from allowing a student or individual to return to the practice or competition from which the student or individual was removed, or to participate in any other practice or competition for which the coach, referee, or official is responsible, until the student or individual has been assessed and cleared for return by a physician or by any other licensed health care provider authorized by the school authority or youth sports organization.
Requires the State Board of Education to (1) require each individual applying for a pupil-activity program permit to coach interscholastic athletics to successfully complete training on brain trauma and brain injury management and (2) require each individual renewing a pupil-activity program permit to coach interscholastic athletics to successfully complete a specified training program.
Click here to visit the concussion web site: www.healthyohioprogram.org/concussion .
2014 OOA
Member Census
FREE IT Services Checkup
Chance to win $100 Visa Gift Card
Access to other Members-only Benefits
Call (855) 319-7828 today
to schedule a complimentary practice consultation.
An hour with our team could save you thousands of dollars!
Upcoming Events