Former NFL Player Records OOA Concussion Message
Radio campaign celebrates 115th anniversary
(August 20, 2014) The OOA's statewide radio campaign continues with a new PSA-type ad cautioning parents, players, and coaches about concussions. Ohio University Heritage College of Osteopathic Medicine (OU-HCOM) Student Simon Fraser, a member of the 2002 Ohio State National Championship football team and former Cleveland Brown, recorded the 60-second spot.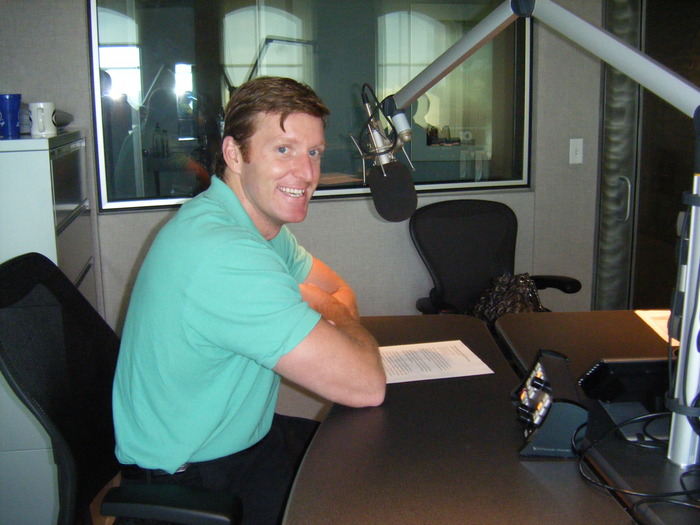 The ad (listen below or by clicking on the photo above), which begins airing next week, can be heard in all 88 Ohio counties on 75 different radio stations affiliated with Ohio News Network (ONN).
OOA President Paul T. Scheatzle, DO, said the topic is an important health issue. "According to the CDC, there are 1.6-3.8 million sports-related concussions annually in the United States. And in Ohio, emergency department visits for sports-related traumatic brain injuries among youth increased by 110 percent from 2002 to 2010."
He also said the timing of the ad is no coincidence, noting that football and soccer season are gearing up.
Fraser, who played in the NFL for the Cleveland Browns and the Atlanta Falcons before becoming an osteopathic medical student, said ignoring the symptoms of a possible head injury can lead to a lifetime of problems.
"Throughout my career as a football player I saw the devastation of concussions," Fraser said. "And I know first-hand the pressure to stay in the game can be overwhelming. That's why there's a new state law requiring young athletes with a head injury to be evaluated by a health care professional before returning to play."
Two years ago, Fraser testified on behalf of the OOA before the Ohio House of Representatives in favor of the "return to play" legislation.
The ad is the OOA's third radio spot as part of an overall awareness campaign in conjunction with the association's 115th anniversary. Radio ads are complemented by internet digital ads and an online promotional video. The project is in collaboration with Associations Advance Ohio, a program launched last year by the Ohio Society of Association Executives. All participating associations direct radio listeners to a common website, www.AssociationsAdvanceOhio.com. The site includes a video about each association with links to the respective website and online member directory. The collaborative advertising program, which emphasizes choosing a professional who is a member of his or her state association, works synergistically by having a common tagline and website.
Hear the Concussion Safety PSA:
Concussion Safety Radio Spot 60 second
Concussion Resources:
Ohio Department of Health: www.healthy.ohio.gov/vipp/concussion.aspx
Centers for Disease Control and Prevention: www.cdc.gov/concussion/sports/facts.html
American Academy of Pediatrics, Ohio Chapter: www.ohioaap.org/pillars/child-health/child-health-committees/home-and-school-health/concussions/
Related Stories:
ODH Posts Concussion Education Tools Online
Ad Campaign Spotlights the OOA's 115th Anniversary


Hear Other OOA Radio Spots:
OOA's 115th Anniversary
Celebrating the Opening of OU-HCOM Dublin Campus
2014 OOA
Member Census
FREE IT Services Checkup
Chance to win $100 Visa Gift Card
Access to other Members-only Benefits
Call (855) 319-7828 today
to schedule a complimentary practice consultation.
An hour with our team could save you thousands of dollars!
Upcoming Events