January 2015 OPA Extern Profile: Hannah Fish
Hannah Fish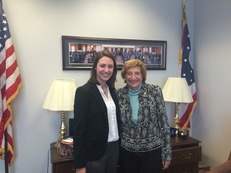 E-mail: h.fish7@gmail.com
Pharmacy School: University of Toledo College of Pharmacy & Pharmaceutical Sciences
Undergraduate degree/institution: Bachelors of Science in Pharmaceutical Sciences (BSPS)/University of Toledo
Rotation Month at OPA: January 2015
How did you get interested in the profession of pharmacy?
In 7th grade my science teacher encouraged me to pursue a career in science, more specifically engineering. During my AP chemistry class in high school though, a representative from the University of Toledo came to speak about the profession of pharmacy. At that moment I switched my dream of becoming an engineer to becoming a pharmacist. I liked that pharmacy offered me the opportunity for patient interaction because I enjoy working with people and helping others. Medical School had already been ruled out as a career because I'm not a fan of blood and trauma. Pharmacy seemed liked the best way to integrate my passion for science and my desire to make an impact on others lives.
Why did you choose OPA as a rotation site?
I chose OPA as a rotation site because I am interested in advocacy and association management. The most rewarding experiences during my time in pharmacy school have been through my involvement with student organizations and I wanted the chance to see what it was like to work with the state association.
What was the most significant or surprising experience at OPA?
My most significant experience at OPA was being able to write articles on recent happenings in the pharmacy world and help with the production of Ohio Pharmacist, OPA's journal. I was amazed at the amount of information that comes through to the organization and the effort OPA goes through to make sure its members stay in the loop and are aware of new updates and changes.
What other pharmacy associations/organizations do you belong to?
American Pharmacists Association-Academy of Student Pharmacists (APhA-ASP)
American Society of Health-System Pharmacists (ASHP)
Ohio Society of Health-System Pharmacists (OSHP)
Student Society of Health-System Pharmacy (SSHP)
Phi Lambda Sigma Leadership Society
Rho Chi Society
Hobbies:
In my free time I love to ballroom dance; the foxtrot is my favorite. I also love to play sports, including volleyball, soccer, basketball and softball. Spending time with my friends and family, traveling, shopping and reading are other passions of mine.