February 2015 OPA Extern Profile: Nick Newman
Nick Newman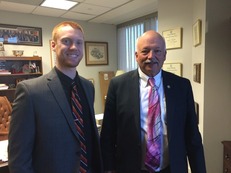 E-mail: n-newman.1@onu.edu
Pharmacy School: Ohio Northern University
Undergraduate degree/institution: N/A
Rotation Month at OPA: February 2015
How did you get interested in the profession of pharmacy?
My mother was the healthcare professional (nurse) in my household growing up. I loved having someone to go to when I was sick or hurt to ask what medicines I should take. This, along with my love for chemistry and math during high school, led me to be interested in a healthcare profession. Knowing a couple of pharmacists helped push me to being interested specifically in pharmacy.
Why did you choose OPA as a rotation site?
From being involved with ONU's NCPA student chapter, my advisor (Dee Dee Myers) got me excited about legislation and how crucial it is for pharmacists to be involved to protect and better our profession. During college, I had the opportunity to travel to Washington, D.C. twice to talk to my legislators about current pharmacy issues. However, I realized to be a more effective lobbyist for our profession, I needed to see and learn from the experts at the Ohio Pharmacists Association (OPA). I wanted to learn all I could and network with many legislators so that in the future I could make a greater impact.
What was the most significant or surprising experience at OPA?
The most significant and informational experience(s) at OPA was visiting the statehouse. Throughout the course of my rotation, I was able to visit the statehouse numerous times. I was able to sit down with my senator and representative and talk in depth about current pharmacy issues. I was able to see bills introduced during sub-committee meeting, as well as hear testimony and see the voting process. I was also able to sit in on both the Senate and House of Representatives floor meetings. Through all of these experiences, I was able to better understand the process of how a bill becomes a law and how important it is to keep your legislators informed on key issues.
What other pharmacy associations/organizations do you belong to?
National Community Pharmacists Association (NCPA), American Society of Health-System Pharmacists (ASHP), Personalized Medicine Coalition student chapter (sPMC), Phi Lambda Sigma
Hobbies:
Spending time with my family, fiancée and friends and playing sports (especially football and basketball).