OPA Past-President Tom Whiston seeks seat in Ohio House of Representatives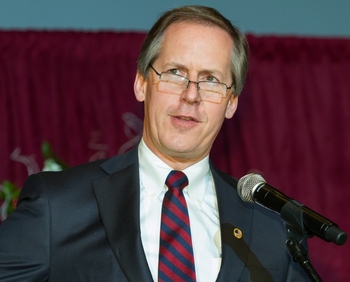 As many of you know, long-time Ohio Pharmacists Association member Tom Whiston is seeking the Republican nomination for the 87th Ohio House District in 2016!
On the eve of election, we wanted to wish Tom the best of luck, and we hope you will join your fellow pharmacists in supporting his candidacy.
Tom Whiston is a graduate of The Ohio State University College of Pharmacy and is a third generation pharmacist. He currently manages Whiston Pharmacy in Mount Gilead and has been an active member of OPA for many years. He served as the association's President in 2012-2013.
Tom currently serves as the Chairman of the Morrow County Commissioners. He is also Chairman of the Delaware Knox Marion Morrow Solid Waste Executive Committee. He served on the village council and was Mayor of Mount Gilead for 11 years. Tom is a member of Trinity United Methodist Church in Mount Gilead and serves on the finance committee.
In addition to his involvement in OPA, Tom is a long-time member of the Morrow County Farm Bureau, National Community Pharmacists Association, Free & Accepted Masonic Lodge 206, Ohio Republican Party, National Republican Party, Arbor Day Foundation, and serves on the board of the County Commissioners Association of Ohio. He currently serves on the Morrow County Republican Central Committee.
Tom has four adult children, Jonathan Whiston, Whitney Thompson (Jesse and grandson Oliver) Joseph Whiston, and Hannah Whiston. Tom's parents, Howard and Pauline Whiston still reside in Mount Gilead. Tom is an officer of the Whiston Foundation and oversees the family Century farm in Knox County.
Tom Whiston has extensive business and government experience and is excited to pursue serving the residents of the 87th district.
Recently, OPA Executive Director Ernie Boyd penned a letter in support of Tom's candidacy. To view that letter of support, click here. Tom has been endorsed by leading legislators that represent the 87th House district, including: Congressman Pat Tiberi, Senator (and pharmacist) Dave Burke, and Representative Jeff McClain, who currently holds the seat.
For more about Tom and his campaign for the Ohio House, visit http://www.tomwhiston.com/.
Lastly, we'd to thank Tom for all of his years of service and wish him nothing but the best in tomorrow's race. Residents of the 87th House district and the rest of the state would greatly benefit from having Tom's passion, intellect, and leadership in the legislature.