Governor Kasich signs four pharmacy bills into law!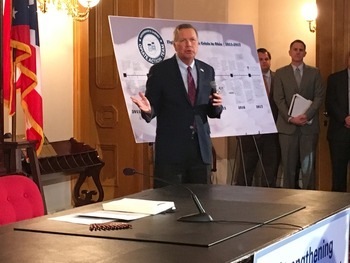 We are pleased to report that several bills that OPA helped shape over the last two years and pass through the legislature have now been signed into law! A great close to the 131st General Assembly!
Last week, OPA Executive Director Ernie Boyd and OPA lobbyist Antonio Ciaccia were at the Ohio Statehouse for a special ceremonial signing of one of those bills, SB 319, by Governor John Kasich. They were joined by several members of the Ohio State Board of Pharmacy, as well as several of the interested parties and legislators who worked on the bill.
We'd like to applaud Kroger pharmacist Missy Drexel, who was recently surprised when Governor Kasich randomly dropped in to her pharmacy to ask her about the OARRS program and the logistics of how it is working for pharmacists working in the community setting. Drexel apparently made a great first impression, as the governor asked her to speak at today's press conference. She did an excellent job representing the profession at the press conference that was packed with media.
Stay tuned for more details in the coming months, but for now, here are the bills that were just recently signed into law:
SB 319: Pharmacy tech registration, drug abuse prevention, MAC transparency improvements
SB 319, sponsored by Senator John Eklund (R-Munson Township), is a comprehensive piece of legislation aimed at curbing prescription drug abuse in Ohio with several important pieces impacting the practice of pharmacy, including pharmacy technician registration, prior authorizations for certain amounts of opioids, limits on prescription amounts for opioids, a 14-day expiration on opioid prescriptions, and makes improvements to Ohio's MAC transparency laws. There are a lot of pieces that will likely significantly impact your pharmacy, so be sure to take time to review our write-up.
CLICK HERE to learn more about the new law, the new requirements and guidelines for pharmacy technicians, the new limits and requirements for opioid prescriptions, and the new MAC transparency improvements.
SB 332: Pharmacist drug administration, infant mortality reforms
SB 332, sponsored by Senator Shannon Jones (R-Springboro) and Senator Charleta Tavares (D-Columbus), makes significant reforms aimed at improving Ohio's infant mortality rates, one of which increases the pharmacist's scope by allowing them to administer certain types of long-acting injectable medications. SB 332 became the vehicle for OPA's push to expand pharmacists' scope of practice by utilizing pharmacists to expand access to prescription drug administrators in Ohio.
CLICK HERE to learn more about the new law, the types of drugs that can be administered, the requirements to administer those medications, and the other provisions aimed at improving Ohio infant mortality rates.
HB 505: Biosimilar substitution
HB 505, sponsored by Reps. Stephen Huffman (R-Tipp City) and Dorothy Pelanda (R-Marysville), will allow pharmacists to substitute biosimilar interchangeable drugs for patients in a similar fashion to how pharmacists already substitute generic drugs. Originally, the bill would have required pharmacists to fax, email, or call a prescriber every time the pharmacist dispensed a biosimilar interchangeable drug to a patient. OPA was successful in amending the language to allow for most electronic system entries to constitute notification to the prescriber, thus reducing significant pharmacy administrative burden.
CLICK HERE to learn more about the new law, the requirements of pharmacists, and an added provision to reduce pharmacy audit takebacks.
HB 285: Pharmacist combining of refills
HB 285, sponsored by Representative Robert Sprague (R-Findlay), will allow pharmacists to combine prescription refills up to a 90-day supply of a non-controlled, maintenance drug for a patient. The bill provides that, in the case of a prescription that authorizes a drug to be dispensed by refilling the prescription one or more times, a pharmacist who is filling or refilling the prescription may dispense a quantity or amount of the drug that varies from the quantity or amount of the drug that otherwise would be dispensed pursuant to the prescription if the several conditions are met. This law gives pharmacists greater authority in working with patients to establish refill a refill process best suited for each patient, and to reduce unnecessary administrative burdens and trips to the pharmacy, if appropriate.
CLICK HERE to learn more about the law, the conditions necessary for a pharmacist to combine refills, and the types of medications that could qualify for refill combination.
OPA thanks all of our members and volunteers who helped refine, improve, and advance these pieces of pharmacy legislation. You are all part of the advocacy machine, and we couldn't do it without you!
Please help us continue our work to advance the profession of pharmacy. If you haven't renewed your 2017 membership yet, please do so here. If you know a colleague who isn't a member, get them in the game. If you or your business are able, help maintain and grow our government affairs presence by supporting our Legislative Defense Fund. If you want to support the political campaigns of legislators who do good work on behalf of pharmacists and patients, donate to the OPA Pharmacy Political Action Committee.
It takes significant time, energy, and resources to advance even the simplest pieces of legislation. Advocacy is a grueling process, and OPA invests significantly into that process. We don't just talk about advancing the profession; OPA goes out and actually does it. Your support is what enables us to do it. For that, we thank you.
More good things to come. Stay tuned!