April 2017 OPA Extern Profile: Kristine Mason
Kristine Mason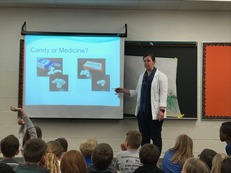 E-mail: mason.516@osu.edu
Pharmacy School: The Ohio State University College of Pharmacy
Undergraduate degree/institution: The Ohio State University (BS in Anthropological Sciences with a minor in Forensic Science)
Rotation Month at OPA: April 2017
How did you get interested in the profession of pharmacy?
In my undergraduate training I studied evolutionary anatomy and medical anthropology. The topics fascinated me as I learned more about the human condition and health around the globe. But through all my studies and research, something was missing. Looking back it is amazing that a small "hiring pharmacy technicians" posting would change my entire career path. I began working as a Pharmacy Technician where I learned about Pharmacist-Provided healthcare services from an inspirational team. After starting as a technician it all fell into place! I found a way to integrate my interests from my undergraduate studies with direct patient care. I am so grateful to the Pharmacists and Technicians that trained me and encouraged me to apply to Pharmacy School, and to my amazing family for the unconditional love and support. Without all of these people I would not be where I am today.
Why did you choose OPA as a rotation site?
Throughout my time in pharmacy school I was very actively involved in a variety of student life and professional associations. Namely I was quite active in NCPA and APhA-ASP. My involvement in these organizations taught me the importance of active involvement in our profession. I remember being told my P1 year "If you aren't at the table, you're on the menu". Being actively involved in outreach and advocacy showed me the impact we are able to have on our profession, and ultimately the care we are able to provide for our patients. I choose to apply for the APPE rotation at OPA to continue to grow my involvement in professional associations as I prepare to be a practitioner. OPA provides tools to pharmacists to stay involved in the profession, as that is more difficult to maintain that involvement as a student. The staff at OPA and the experience they provided this month continues to inspire me to be involved in our profession. I grew as a leader and a lifelong learner.
What was the most significant or surprising experience at OPA?
One of the most significant experiences I have had as an APPE at the Ohio Pharmacists Association was the Annual Meeting. I have attended OPA's Annual Meeting since beginning as a first year pharmacy student at Ohio State. I love attending the timely and innovative CPE sessions, the exciting student competitions, and the many networking opportunities. Every year I look forward to attending OPA's Annual Meeting to see familiar faces and learn all of the exciting things happening in Pharmacy across the state. This year I had the privilege of being on the other side of the Annual Meeting! It was an eye-opening experience to see all of the work the amazing team at OPA does to ensure the success of the conference. From countless hours preparing attendee registration and handouts, to preparing rooms for speakers, ensuring there is plenty of coffee for those early morning sessions, and so much more. The OPA staff were truly incredible to work with not only the weekend of the Annual Meeting, but my entire APPE month.
Why I think it's important to maintain my OPA membership after graduation.
As a student we are constantly connected to the most up-to-date happenings in pharmacy practice and legislation. During my APPE year I have realized how much more difficult it is to fit CE and advocacy into the day-to-day life of a practitioner. Being a member of OPA allows you to remain connected with pharmacy in the state of Ohio. Professional association membership allows you to learn about current legislation and its impact on practice, innovative practice models and services, and many continuing education opportunities through live sessions and in the Ohio Pharmacist journal. Our membership dues work for us as OPA works to protect the practice of pharmacy through legislative efforts and community outreach. I look forward to many years as an OPA member where I can support my profession, the practice of pharmacy in Ohio, and the care that I am able provide my patients.
What other pharmacy associations/organizations do you belong to?
American Pharmacists Association (APhA)/ Academy of Student Pharmacists (APhA-ASP), American Society of Health-System Pharmacists (ASHP)/ OSU Student Society of Health-System Pharmacists (SSHP)/ Ohio Society of Health-System Pharmacists (OSHP), National Community Pharmacists Association (NCPA), Ohio Pharmacists Association (OPA), Phi Lambda Sigma (PLS) Alpha Sigma Chapter Pharmacy Leadership Society
Hobbies: I enjoy spending time with family and friends. I love to travel, including my upcoming trip to Havana, Cuba after graduation! I also enjoy bike riding and touring microbreweries/wineries.