September 2017 OPA Extern Profile: Bailey (Hryczyk) Carpenter
Bailey (Hryczyk) Carpenter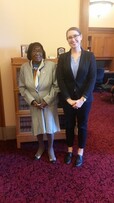 E-mail: hryczykb@findlay.edu
Pharmacy School: University of Findlay College of Pharmacy
Undergraduate degree/institution: Bachelor of Science in Biology at the University of Michigan-Dearborn
Rotation Month at OPA: September 2017
How did you get interested in the profession of pharmacy?
Like most in the pharmacy world, I was a math and science girl. However, I didn't commit to the pharmacy path until my Junior year of undergrad when I was at the point where I had to choose a major. I had been considering some sort of medical route but pharmacy was the one that stuck out to me. Job security, knowledge, respect and interacting with people all sounded great to me. I decided to major in Biology, as that lined up with most pharmacy school prerequisites, and never looked back!
Why did you choose OPA as a rotation site?
I realize that there is more to the profession of pharmacy than what is taught in school and I want to get the fullest picture possible before I decide what I want to do with my PharmD. OPA works for the pharmacists in Ohio, no matter the role, and I wanted to learn as much as I could from them. Additionally, I have loved the OPA events I've participated in, like the Annual Conference and Legislative Day, and I wanted to get a firsthand feel for how the Association works and the role it plays.
What was the most significant or surprising experience at OPA?
I really enjoyed sitting in on the State of Ohio Board of Pharmacy meeting this month. It was very exciting to see firsthand how the board acts upon pharmacy matters and implements change. I have a lot of respect for the board members and can tell they truly care about the profession.
Why I think it's important to maintain my OPA membership after graduation.
OPA is strictly there to help pharmacists in Ohio. They do so much that many pharmacists may not even realize. They're looking out for the profession and working to push us forward. We owe them so much and the thanks they get doesn't always show. The least I could do to support them and their efforts would be to continue my membership.
What other pharmacy associations/organizations do you belong to?
Alpha Zeta Omega Pharmaceutical Professional Fraternity- Theta Gamma Chapter
APhA-ASP
Student Michigan Pharmacists Association
Student National Pharmaceutical Association
Hobbies: Reading, traveling, and currently planning my wedding!