October 2017 OPA Extern Profile: Neal Fox
Neal Fox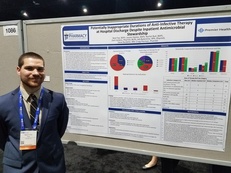 E-mail: nfox@cedarville.edu
Pharmacy School: Cedarville University School of Pharmacy
Undergraduate degree/institution: Cedarville University
Rotation Month at OPA: October 2017
How did you get interested in the profession of pharmacy?
Pharmacy was a somewhat arbitrary decision for me, at first. I liked the sciences and I wanted to have an advanced degree. Like many of my colleagues I also wanted to help people. As I have learned more about pharmacy I have fallen in love with the diversity of career options, the breadth of knowledge, and the impact that we have on people's lives.
Why did you choose OPA as a rotation site?
I realize the incredible power that law and regulation play in healthcare and the practice of pharmacy. I want the law to be a tool that aids me in my care for patients rather than hinderance that prevents me from practicing to my fullest extent. OPA advocacy is an essential part of guiding lawmakers towards pharmacy-friendly solutions to healthcare challenges. I plan to live and work in Ohio for my career. Ohio is my home and OPA is a huge voice for pharmacy in the state and country.
What was the most significant or surprising experience at OPA?
I, like many, had fallen into the trap of thinking of OPA as a primarily community pharmacy organization. While community pharmacy is a significant component, OPA represents all of pharmacy. This became obvious when as I attended OPA committee meetings. The rooms were full of people from all areas of care. I was surprised by this and was challenged to rethink some of my assumptions about the role OPA within the entire profession of pharmacy.
Why I think it's important to maintain my OPA membership after graduation.
OPA represents all of pharmacy, especially in the state of Ohio. Being involved in OPA allows me to contribute to shaping our profession in the future. So much is changing and we much be at the forefront. If pharmacists do not continually advocate for themselves, healthcare will progress without and beyond us. If we maintain our position as the medication experts in healthcare, while showing what we can do, our scope will only expand. This expansion improves the quality of care and free the other members of the healthcare team to focus on their strongest points. OPA is essential to maintaining the position of the pharmacist in Ohio and beyond.
What other pharmacy associations/organizations do you belong to?
I am also involved in CPFI (Christian Pharmacists Fellowship International), ACCP (American College of Clinical Pharmacy), and Rho Chi. I have served as an officer at the local, student chapters of all three organizations during my time at Cedarville. I previously presented research at a conference of the AACP (American Association of Colleges of Pharmacy).
Hobbies: Reading, Physical Activity, Video Games