November 2017 OPA Extern Profile: Sam Martin
Sam Martin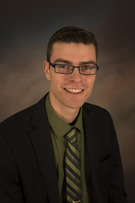 E-mail: s-martin.1@onu.edu
Pharmacy School: Ohio Northern University
Undergraduate degree/institution: Ohio Northern University
Rotation Month at OPA: November 2017
How did you get interested in the profession of pharmacy?
I shadowed at a small independent during my junior year of high school. The experience was enough to pique my interest, although I wasn't convinced I could do it for a living until I did my IPPE hours at a Walmart. I enjoyed the work and realized if I could work at Walmart full-time and not feel drained afterward that I likely had a future as a pharmacist
Why did you choose OPA as a rotation site?
I had interacted with lobbyist Antonio Ciaccia on several occasions doing advocacy work. I knew if I did a rotation with OPA, I would get a chance to be more heavily involved in that process, which I believe is extremely important.
What was the most significant or surprising experience at OPA?
OPA has an entire component set up to provide high-quality CE to its members. There are also resources available to members on the website, including template presentations. I had no idea any of these services existed until I was actively spending half my time at OPA reviewing them.
Why I think it's important to maintain my OPA membership after graduation.
OPA is the only pharmacy organization in Ohio with an influential voice in the state government. The last 5 years have seen a major increase in Pro-pharmacy legislation being pushed through successfully. I know that I need to be a part of that process as a grassroots advocate. I would love to devote time in my career trying to convince my peers to have the same feeling.
What other pharmacy associations/organizations do you belong to?
NCPA
Hobbies:
I sing, and am trying to teach myself piano, which is honestly harder for me than school itself.
I play video games. Anything with an immersive story, as well as Minecraft.
My fiancée and I are very busy on the weekends, usually visiting family. We also have a membership to the Toledo Zoo.
I like reading, but I am a slow reader. I prefer non-fiction because I am interested in learning about new subjects/opinions.