Pharmacist provider status legislation introduced in Ohio Senate!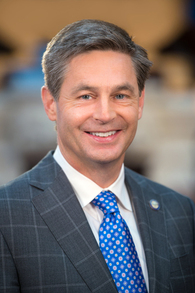 We are pleased to announce that state Senator Matt Dolan (R-Chagrin Falls) has introduced legislation to formally recognize pharmacists as providers in Ohio law!
OPA has worked tirelessly with lawmakers and stakeholders to evolve the perception of the profession of pharmacy beyond its traditional roots in order to reflect the reality of a more service-oriented role. Now, with Senator Dolan's SB 265, we are ready to make the case for why provider definitions and insurance law should catch up to the growing role of the pharmacist.
The impetus for better utilizing all members of the health care team has never been greater. Ohio suffers from a litany of medically underserved areas, and doctor shortages are expected to get even worse in the coming years. As the demands for health care services grows, the need for tapping into "physician extenders" and the full health care team increases exponentially.
The pharmacist profession has evolved considerably in recent years, and while their scope has increased, barriers to utilizing pharmacists persist. In light of the opioid crisis, increased chronic disease costs, and growing behavioral health demands, it is time to knock down the barriers that have stood in the way of health plans, hospitals, and health care teams integrating and utilizing the pharmacological expertise of the pharmacist.
Senator Dolan and OPA are not alone in this push. In 2015, the National Governors Association (NGA) released an extensive report entitled "The Expanding Role of Pharmacists in a Transformed Health Care System," that called on states to revise their laws to "better integrate pharmacists into the health care delivery system and allow them to practice to the full scope of their professional training."
"As the health care system undergoes a major transformation in both finance and the delivery of services, states are focusing on improved quality and health outcomes," said NGA Executive Director Dan Crippen. "Integrating pharmacists, who represent the third largest health profession, into the health care delivery system is one way to meet those goals."
Of course, in Ohio that scope expansion has increased significantly in recent years, but unfortunately there have been speed bumps in turning those scope enhancements into reality in the field. Much of the barriers are due to old laws, antiquated billing models, and regressive attitudes on health care delivery. But now is our opportunity to change all of this.
When the pharmacist focuses on medication education, adherence, and prevention of adverse drug events, better health can be achieved. Even the American Medical Association has begun to acknowledge the key role of the pharmacist on the health care team. The facts speak for themselves: Ohio pharmacists provide care.
Recently the Ohio Pharmacists Foundation and OPA's Medication Therapy Management Committee worked to develop "Ohio's MTM Story," a comprehensive guide to the value of pharmacist services across the state of Ohio. This directory, organized by Ohio Senate district, was created to showcase the effect of patient interactions with pharmacists. Each MTM "story" speaks to an individual encounter that improved the health of a patient, and shows the positive influence that a pharmacist can have on the healthcare system and patient lives. We encourage you to utilize this guide to educate patients, stakeholders, and lawmakers on the need for SB 265.
While Ohio's MTM Story contains real-world examples of pharmacist services, many of these encounters occur without a reimbursement mechanism for the service rendered. To ensure these services can continue, to increase the prevalence of these forms of pharmacist care, and to better incentivize the creation of innovative care models, provider status is a fundamental need.
"It has been a long journey to recognize pharmacists as providers," said OPA President Cathy Kuhn. "We are at an pivotal point with the introduction of SB 265, which would allow pharmacists to be finally recognized as providers. It has been truly a team effort by OPA staff, past and current leaders, and many other stakeholders to be where we are today. Thank you especially to Senator Dolan for believing in the value of the services pharmacists provide and introducing the bill. Our success relies on the voice of our members, so now is an important time to speak up, share your story with legislators and help pharmacists achieve provider status!"
"As President of OPA in 2016, I announced that provider status legislation for pharmacists was my top priority," said OPA Past President Chet Kaczor. "It is incredibly rewarding to see this proposed legislation come to fruition. Introduction of SB 265 is the culmination of years of discussions and effort to help patients gain greater access to pharmacists' services."
OPA thanks Senator Dolan for his acknowledgment and passion to promote and grow the role of the pharmacist as a mechanism to improve health care outcomes in Ohio. At a time when our state needs as many tools as possible to combat our pressing health care challenges, ensuring that pharmacists — the medication experts — are a usable option in the toolbox is essential.
We encourage supporters to contact your legislators to share why provider status and increased utilization of pharmacists is important. Ask your lawmakers to support SB 265.
Special thanks to Senator Dolan's staff and the Legislative Services Commission for their tireless work with us to craft and refine the language in SB 265. Additional thanks to the Ohio Society of Health-System Pharmacists (OSHP) for some of the resources and studies that we will be using to make our case to lawmakers. And of course, thanks to Senator Dave Burke for his instrumental support as we worked to create and advance the legislation.
Please take a moment to thank Senator Dolan for his leadership by sending him a message on Twitter, Facebook, or via his contact form.