Jennifer Rodis is Named UNDER 40 Award Honoree
2018 UNDER 40 Award Recipient
Jennifer Rodis, R.Ph., PharmD, BCPS, FAPhA
The Ohio Pharmacists Association (OPA) announced today that Jennifer Rodis, R.Ph., PharmD, BCPS, FAPhA of Columbus, Ohio was honored as a distinguished UNDER 40 award recipient for professional achievements and vision in the practice of pharmacy at its 140th Annual Conference held April 20-22, 2018 in Columbus. This award recognizes the professional achievements of young pharmacists, and advances them in the ranks of top-notch professionals from a variety of careers who have earned UNDER 40 recognition.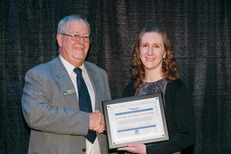 Dr. Jennifer Rodis is an exemplary practitioner, teacher and leader. In her relatively short career since completing her residency training in 2003, Dr. Rodis' work in each of these roles has moved the practice of pharmacy forward in Ohio and nationwide. Furthermore, her extensive work with pharmacy students and residents has resulted in training a generation of progressive, forward thinking practitioners who are emulating her contagious passion for evolving the role of the pharmacist.
Jen is Associate Professor of Clinical Pharmacy, Director of Partner for Promotion, and Assistant Dean for Outreach and Engagement at The Ohio State University (OSU). She earned her doctorate of Pharmacy at Ohio Northern University and completed an ambulatory care/community practice residency at OSU. She is a past recipient of OPA's Distinguished Young Pharmacist Award.
As a member of the Ohio Pharmacists Association, Rodis has served one term as Executive Committee Member at Large. She is the Chairperson of the Public and Professional Relations Committee and is a Medication Therapy Management Committee member. She is the Creator and Co-Director of the Innovative Practice Forum at the OPA Annual Conference. Jen is a member of the American Pharmacists Association (APhA), and is a Trainer for APhA Certificate Programs: Pharmacy-Based Travel Health Services, Delivering Medication Therapy Management Services, Pharmacist and Patient-Centered Diabetes Care, and Pharmacy-Based Immunization Delivery. Rodis is a member of the Journal of American Pharmacists Association Editorial Board. She has served as a Manuscript Reviewer, Resident Manuscript Mentor, Poster Abstract Reviewer, and was the first Moderator for APhA's online discussion forum and listserv that is now the Engage Forum. She served as a Pharmacy Today Advisory Board Chair, at the Self-Care Institute and as Poster Judge for APhA Annual Meetings. She has served on the APhA Guidelines Implementation Committee and as an Innovative and Resident Grant Reviewer Jen and has served as a Poster Abstract Reviewer, Manuscript Reviewer, Innovations in Teaching Award Reviewer, and Student Engaged Community Service Award Reviewer for AACP. Jen is a member of the Council of Ohio Colleges of Pharmacy as well as the American Society of Health-System Pharmacy (ASHP) and American College of Clinical Pharmacy (ACCP).
In practice, with the Clinical Partners Program, she was involved in providing chronic disease management, anticoagulation management, specialty pharmacy care for patients with Hepatitis C Virus, and Medication Therapy Management (MTM), she created new services, enhanced existing care models, and practiced in this award-winning, consulting community pharmacy owned by Ohio State. In 2005, Jen initiated a novel program at OSU called Partner for Promotion (PFP - www.partnerforpromotion.org). Partner for Promotion aims to expand quality patient care services in community-based pharmacy practices. By empowering current and future pharmacists to create sustainable services, she's been involved in advancing the role of the pharmacist on the healthcare team, improving outcomes, and increasing patient access to care. Since 2005, over 200 students and 100 preceptors have participated in service development through PFP with sustainability of services created during the program estimated at approximately 60 percent with thousands of patient care visits provided. This PFP model has been described in scholarly journals, received local and national awards, and been adopted at seven additional colleges of pharmacy across the U.S.
As Assistant Dean for Outreach and Engagement, Rodis provides leadership and vision for the community engagement that occurs outside the walls of The OSU College of Pharmacy by their students, faculty, staff, and alumni. She has been fostering practice change locally to globally through training in practice advancement, educating international pharmacy students and practitioners, and advocating for the profession of pharmacy at the state and federal level.
Jen has received the following awards or honors: The AACP Lawrence C. Weaver Transformative Community Service Award (lead team from The Ohio State University College of Pharmacy), APhA-APPM Distinguished Pharmacy Practice Award, NACHC 1st Place Poster, the AACP Student Community Engaged Service Award (Pharmacy Ambassadors), OSU President's Community Service Honor Roll (Partner for Promotion), the University Distinguished Service Learning Award (Partner for Promotion), AACP Walmart Scholar Mentor, The Ohio State University IPEP Symposium 1st Place Poster, the AACP Innovations in Teaching Award (Partner for Promotion), the APhA-APPM Presentation Merit Award, The OSU College of Pharmacy Preceptor of the Year Award, APhA-APPM Merit Award (Partner for Promotion), The OSU President's Community Service Honor Roll (Operation Diabetes), the USPHS Excellence in Community Service Programming Award (Operation Diabetes), and the ASHP Best Practices Award in Health-System Pharmacy (Clinical Partners Program).
Jen's response when asked Why do you belong to OPA? "I have been a member of OPA since I first joined the profession for many reasons. The value of OPA has grown for me through the years; I am grateful for the opportunity to work with this wonderful organization. First, I appreciate the opportunity to impact growth of the profession of pharmacy locally and across the state of Ohio through training, networking, and advocacy. This philosophy is also why I am at Ohio State. The Land Grant philosophy of existing to better the lives of Ohioans inspires me to think about how my actions can improve health and wellness of individuals on a larger scope. OPA allows me to do this through equipping current and future pharmacist with the skills to make a difference in patients' lives. Through OPA committees and connections to pharmacists at annual meetings and events throughout the year, I love to network and learn from other professionals as well as foster synergy among connections in the state. The opportunity to stay up to date and engage in advocacy efforts with legislators and other stakeholders to enhance opportunities for pharmacy, pharmacy students, and patients is another primary reason that I am grateful for OPA."
Kroger Pharmacy has exclusively sponsored the OPA UNDER 40 Recognition Program.