Kevin Day Honored as UNDER 40 Award Recipient
2018 UNDER 40 Award Recipient
Kevin Day, R.Ph., PharmD
The Ohio Pharmacists Association (OPA) announced that Kevin Day, R.Ph., PharmD, of Cincinnati, Ohio was honored as a distinguished UNDER 40 award recipient for professional achievements and vision in the practice of pharmacy at its 140th Annual Conference held April 20-22, 2018 in Columbus. This award recognizes the professional achievements of young pharmacists, and advances them in the ranks of top-notch professionals from a variety of careers who have earned UNDER 40 recognition.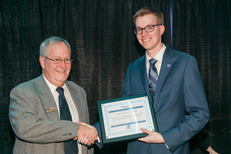 In the three and half years as a licensed Ohio pharmacist and a staff member at the National Community Pharmacists Association (NCPA), Kevin has impacted independent community pharmacy practice from coast-to-coast. His passion for the profession and sincere belief that pharmacists are in a position to do so much more for patients and the healthcare system as a whole drives him to encourage and empower pharmacists to take conscious steps that will help them and their pharmacies thrive
Kevin earned his Doctor of Pharmacy degree at the University of Toledo College of Pharmacy and Pharmaceutical Sciences. He then served as associate director of Strategic Initiatives for NCPA in Alexandria, Virginia. He recently returned to Ohio to practice at Day's Miami Heights Pharmacy in Cincinnati, while being part of the leadership team of CPESN® Ohio, a clinically integrated network of community-based pharmacies which provide enhanced patient care services focused on reducing overall health care costs.
Kevin has worked with specialty pharmacy, the NCPA Innovation Center, and has spoken across the country. He is an enthusiastic and knowledgeable voice for independent community pharmacy. He has hosted webinars to full-day in-person events including the 2015 NCPA Specialty Forum. He has written numerous articles, including written CPE, for publications such as America's Pharmacist, Computer Talk for the Pharmacist, and Inside Patient Care: Pharmacy and Clinics; guest blogged for Mental Health First Aid-USA; been a podcast guest on the CSI Specialty Pharmacy Podcast and Health Policy Check Up; published Front-End Overhaul: A How-To Guide; created an online transitions of care toolkit for pharmacies; and advised dozens of pharmacies on topics including specialty pharmacy, transitions of care, collaborative practice, point of care testing, pharmacogenomics, and CPESN USA. He has a current grant through the Community Pharmacy Foundation. Day started attending OPA Annual Conferences as a student at the University of Toledo (participated on the 2013 OPA Student Olympics Championship Team) and has continued to prioritize attendance at the Annual Conference, as well as the Midwest Independent Pharmacy Expo. Even though he has lived and worked in the D.C. area, he is a proud, licensed Ohio pharmacist and member of OPA.
Kevin's response when asked Why do you belong to OPA? "As a national pharmacy association staff member, I understand the value pharmacy associations bring to the profession and how critical it is for associations to have strong support from their memberships. My intimate knowledge of the issues facing pharmacy - and the opportunities they present - make it a no brainer for me to be a member of OPA. As much as I love NCPA and the work we do, it isn't possible for national associations like ours to address every issue in every state. Strong state associations like OPA provide the 'boots on the ground' support needed to keep this profession moving forward and pharmacies thriving. OPA keeps me informed of state specific issues that are important for me to know individually, but also critical in my role at NCPA."
We thank Kroger Pharmacy for exclusively sponsoring the 2018 OPA UNDER 40 Recognition Program.